GAYME SHOW! Hosted by Dave Mizzoni & Matt Rogers with Max Silvestri, Kyle Ayers, Joel Kim Booster, and Greta Titelman!
About this Event
GAYME SHOW is a, you guessed it, game show and crash course in all things LGBT and fabulous. Hosts Dave Mizzoni (Logo, New York Comedy Festival, Comedy Central's Comics to Watch) and Matt Rogers (Logo, Las Culturistas, Vulture, Just For Laughs New Faces) put two straight male comedians to the test in head to head challenges to uncover which of them will be named Honorarily Gay As Fuck and will reign as Queen of the Straights!
Each show, the straights are coached and critiqued by very special guests, a Woman Who Gets It and a Wise Queer. GAYME SHOW is spirited, competitive, and pop-culturally educational while also being fun and frivolous as all hell, henny! Imagine Jeopardy meets Watch What Happens LIVE! Points and results don't matter as much as a good time and a newly discovered knowledge on topics such as Fergie's amazing performance in the film Nine. Seriously, watch "Be Italian".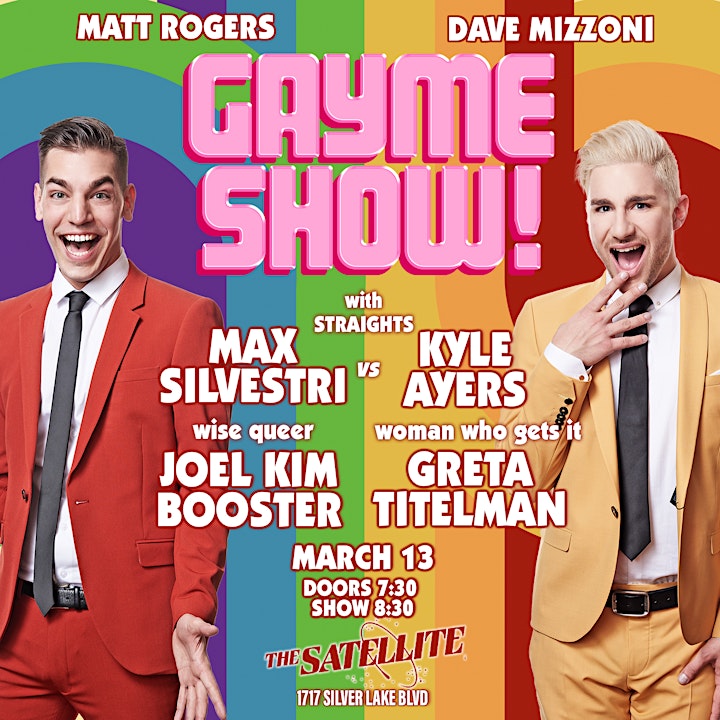 Performers
Date and Time
Location
Refund Policy