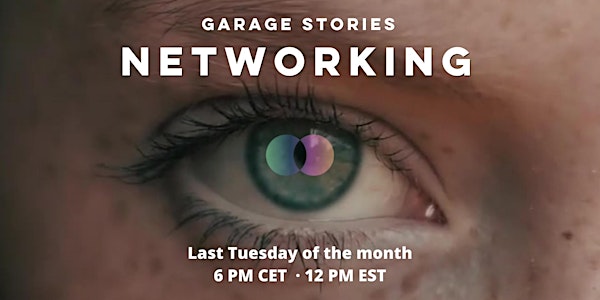 GARAGE STORIES // Emerging media networking + Tech & Ethics discussions
Emerging media creatives networking event / Mingle, connect and discuss relevant ethics & tech topics / Last Tuesday of the month
Date and time
Tuesday, May 30 · 9 - 10am PDT
About this event
THE EMERGING MEDIA INDUSTRY NETWORK
We are gathering once a month to mingle with like-minded creatives and futurists, discover new jobs and discuss some of the hottest topics around tech and ethics 🚀
EVENT STRUCTURE II
Duration: 45 minutes
Time: 12pm EDT · 6pm CET
When: Last Tuesday of the month (online)
__Welcoming + assistants brief introductions
__Event topic + discussion panel
__Mingle challenge (problem-solving breakout rooms around the event topic)
__Final outcomes and wrap up
CALENDAR II Coming events · hot topics 🔥
May 30: AI x emerging media industry What role should AI play in the future of the creative industries? / Featuring 15 min intro AI storytelling MC *collecting inspiring thoughts/predictions through an AI generated story movie script w/ Valerie Wolf Gang
June 27: Startups x Stories How could the emerging media industry become an ecosystem to enable startups and communities cooperation? Which trending stories are shaping today's speech?
July 31: Tech x Future Should we use technology to solve existing problems or generate new opportunities?
Organized by Garage Stories innovation lab•agency
Think tanks, pop-up labs, hackathons, gamified competitions & branding experiences for a better future II
Want to get spotted?
About the organizer
Co-creation experiences between an heterogeneous mix of creative profiles to help build the foundation of VR Storytelling.