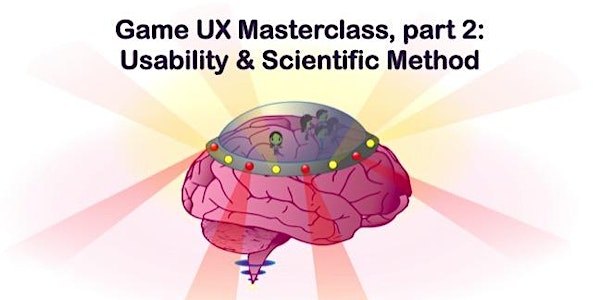 Game UX Masterclass - Part 2/3: Usability & Scientific Method
Video games that are more intuitive to pick up are more likely to be successful. We'll explore usability ingredients & the scientific method
Refund Policy
Refunds up to 1 day before event
Eventbrite's fee is nonrefundable.
About this event
This Session is part 2 of a 3-session Masterclass on UX applied to the development of video games. While it can be taken independently from the 2 others, it will refer to notions tackled in Part 1 (about cognitive science).
Part 2: Usability & Scientific Method
Making fun and engaging video games is hard, and with thousands of games being released every year, the competition is fierce. One of the keys to crafting successful video games is to ensure that the game will be intuitive and easy to use.
We can break down game UX into 'usability' and 'engage-ability'. This session tackles usability guidelines (e.g. signs and feedback, form follows function, minimum workload, accessibility...). Usability is about the ability of a product to be used by humans, such as how to make it intuitive to learn and easy to interact with, relative to the brain capabilities and limitations seen in Part 1. We will explore these guidelines in the context of video game development.
We will also touch on the scientific method, user research and analytics, and how to measure what when, depending on what stage of development a project is at.
(Not included: Part 1 about brain limitations, & Part 3 about engage-ability guidelines.)
Who is this for?
This Masterclass is more specifically targeted to video game developers: designers, artists, gameplay/UI programmers, producers, and junior UX practitioners .
Main takeaways
- Efficiently apply usability guidelines to game development to avoid common UX pitfalls.
- Overview of the scientific method and game user research