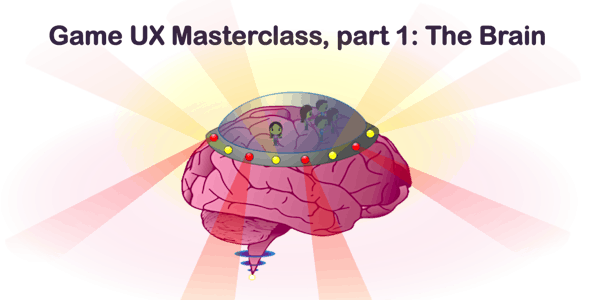 Game UX Masterclass - Part 1/3: The Brain (Cognitive Science)
The human brain is a powerful organ. Yet it has great limitations. We will explore the brain through the lens of UX for game development.
Refund Policy
Refunds up to 1 day before event
Eventbrite's fee is nonrefundable.
About this event
This Session is Part 1 of a 3-session Masterclass on UX applied to the development of video games. It can be taken independently from the 2 others.
Part 1: Cognitive Science
Making fun and engaging video games is hard, and with thousands of games being released every year, the competition is fierce. One of the keys to crafting successful video games is to consider that experiencing a game happens in the player's mind.
This is why understanding the human brain (especially its limitations) while it is perceiving and interacting with a game is paramount to accomplish faster and more efficiently your developers' goals. This first session focuses exclusively on cognitive science (how the brain works and learns, and what it means for video games).
This first part is an introduction to cognitive science and psychology to understand how the brain works and, more specifically, how it learns. We will look into the capabilities and limitations of human perception, attention, & memory using multiple examples taken from video games and beyond. We will also explain what are the main factors allowing the brain to learn more efficiently, in the context of learning how to play a video game.
(Not included: Part 2 about usability guidelines & scientific method, & Part 3 about engage-ability guidelines, held respectively on Nov 18 and Nov 20)
Who is this for?
Anyone can benefit from knowing more about the brain, which is the underpinnings of user experience. This Masterclass will however benefit designers, artists, gameplay/UI programmers, producers, and junior UX practitioners even more. While we'll use a lot of examples from video games, this first part can also be attended by product owners from outside the game industry.
Main takeaways
- Understand the main characteristics and limitations of the human brain (in terms of perception, attention, memory)
- Understand how the brain learns, and how to apply this knowledge to video game development.