Description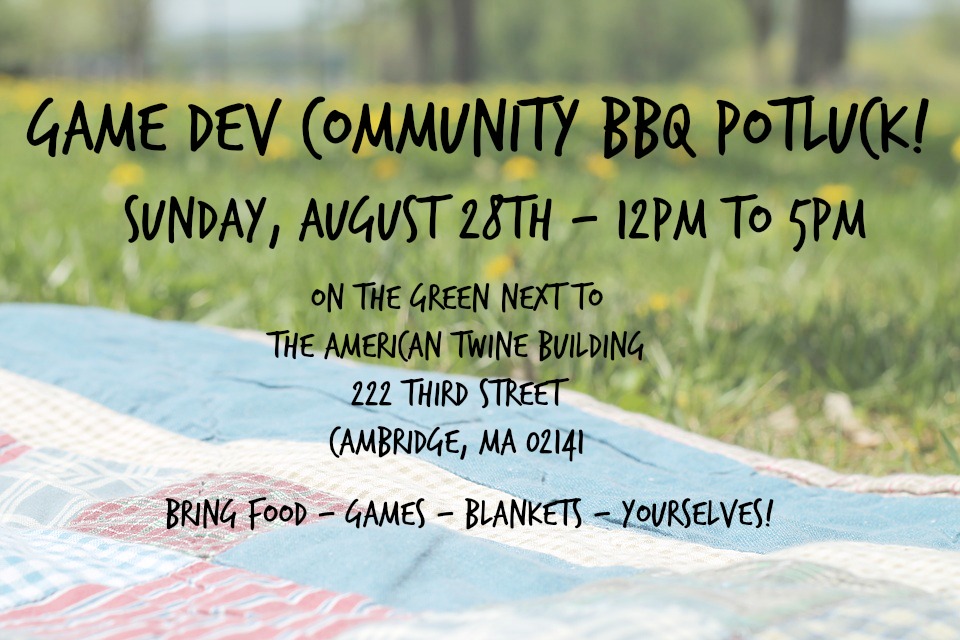 Special Thanks to Contributing Organizations: Harmonix Music Systems, Boston Post Mortem (IGDA Boston), Intrepid Pursuits LLC & Women in Games Boston
*The American Twine parking lot as well as free street parking is available*
SUMMER
Swing by the lawn to celebrate summer and our vibrant game dev community! This is a potluck for all who attend any of the community's events or meetups to enjoy, so bring your friends and families to enjoy the sun. The weather's supposed to be beautiful on August 28th so meet us all at Rogers Street Park on the green next to the American Twine building in Cambridge, MA from 12pm to 5pm.
POTLUCK
Note: Please bring an ingredients list with you if you are bringing home-made food for the consideration of people with allergies and dietary restrictions.
We will be serving some picnic-ish catered food at the event, but what says "community" more than the act of sharing? We'll be bringing some home-cooked dishes too, and so should you! Feel free to bring anything consumable from candy and chips to water bottles and entrees. We'd all love a chance to taste some of what the culinary-inclined members of the community have to offer!
Due to Cambridge rules, we are not permitted to serve or imbibe alcohol at the park. Please be respectful of city law!
FUN TIMES

This potluck is the day after Boston GameLoop. If you're going to GameLoop on Saturday, why not continue some of those conversations on Sunday? We invite you to get to know members of the community who attend one or more of the greater Boston area's meetups. Feel free to bring outdoor games with you, though we'll already have some, of course! Bring on the soccer balls, frisbees, whatever you love playing with under the sun. For those of us who love to relax, bring a beach towel or a folding chair! There's plenty of space.
*The American Twine parking lot as well as free street parking is available*
Sponsors for the BBQ Potluck:
This event couldn't have happened if not for the following companies and individuals:

Lee Kennen

Liz Surette at Overclocked Legal

Red Tree Real Estate