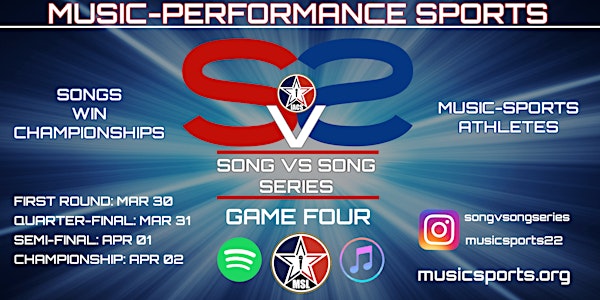 GAME 4: SONG vs SONG SERIES/SONG SUBMISSIONS
A VIRTUAL ALL-GENRE SONG COMPETITION SPORTS LEAGUE FOR INDEPENDENT ARTISTS.
Date and time
February 25 · 9pm - March 17 · 8:59pm PST
About this event
Music-Sports League (MSL) is the governing body of Music-Performance Sports (MPS), and is dedicated to the career development, education, and promotion of independent recording artists that participate in the MPS program. A 501(c)(3) nonprofit, MSL is headquartered in Newport News, VA.
Tax ID Number: 86-1869202
Website: www.musicsports.org
MSL is the administrator of the Song vs Song Series which introduces MPS, a new groundbreaking and revolutionary way for independent artists to virtually engage fans, make money, gain international song exposure, organically increase Spotify/Apple Music streams, enhance overall social media presence, and even potentially, get discovered for bigger opportunities!
JOINT EFFORT PROMOTIONS: SvS is a virtual league, therefore, all game promotions are social media-based. We promote our games using social media ad campaigns, direct emails, and other forms to organically attract previous and new visitors to the website on game days. To maximize the full potential of fan engagement, we ask that players participating promote on their social media platforms, as well. Our primary objective is to create as much opportunity to increase song exposure for our players.
REGULAR SEASON GAME CHAMPIONS:
HOW TO ENTER:
SONG SUBMISSIONS CLOSE AT 11:59 PM ON 03/17
Pay submissions fee - $50 for new players, $30 for returning players.
Complete the submissions form. (Please read submissions rules)
Our A&R Team will review your submission form for accuracy. (An email will be sent if we come across any issues with your submission)
Player orientation, 03/26 via Zoom
Game 4 bracket announcement, 03/27 via website (www.musicsports.org)
SUBMISSIONS RULES:
Must be an unsigned recording artist
Must live in U.S., Canada, or United Kingdom
Song is required to be listed on Spotify or Apple Music
Song is required to be radio-edited
Song must be 100% original
Must be at 18 years old
REGULAR SEASON: January - July
The regular season is made up of 10 virtual games.
NOTE: Major labels, club and radio DJs, curators, and booking agencies use Song vs Song Series as a method to discover new music. So, bring your A-game!
All matches will be displayed on the Song vs Song Series page, via our website.
Matches are open to the general public to listen and vote (we promote via social media ads to drive thousands of people to participate.)
Judges score the matches on the categories of DELIVERY, SONG QUALITY, and RADIO READINESS, the song with the most points advances.
Only in the event of a tie on the scorecards will the votes act as the tiebreaker to decide the winner.
Players that do not advance may enter the next game with another song, and $30 dollar submission fee.
Per game, players earn Ranking Points up to the point in which the player is eliminated, or the player wins the entire game, they're awarded the maximum points for the game. (Regular season rankings are updated within 72-hrs after game completion).
Game winners clinch a playoff seed, can win cash, marketing prizes (radio promo package), and a podcast interview, and their submission fee is endorsed by MSL if the player wants to play in the next game. (Payout is based on how many submissions are received for the current game. Submissions of fewer than 50 do not warrant a payout to the game champion.)
The two players with the most Ranking Points that have not clinched a playoff berth by the end of the regular season will clinch a playoff Wildcard berth.
PLAYOFFS:
The playoffs are made up of 10-seeded players (game champions), and 2-Wildcards.
The Playoff game is contested as a seeded tournament.
Matches are scored on the same categories as the regular season games.
Players cannot use any song(s) used in the regular season.
Players that reach the semi-final round clinch a SUPER MIC berth.
SUPER MIC:
The SUPER MIC is the MSL championship game. The SUPER MIC is intended to be a live game, but based on this year's funding, the 2023 SUPER MIC will be contested an online game.
Players may not use any song used in the playoffs.
Players will be scored on the same categories as the regular season games.
The two players that reach the SUPER MIC champion will contest in up to 3-rounds.
ALL PLAYERS RECEIVE:
1-hour free marketing/promotional consultation
Exclusive access to MSL University (online entrepreneurship/music business educational portal)
25% off on additional song marketing/promotional services (radio promotions, EPKs, Spotify/Apple Music campaign promos, etc.)
Additional perks are listed at https://musicisoursport.com/song-vs-song-series
MSL does a revenue share to the players. 50% of any revenue made from any game will be equally between the players.
GAME CHAMPIONS RECEIVE:
SINGLE RADIO RELEASE: The song of the champion's choice will be played on various digital and FM radio stations across 120 countries.
Interview with one of our radio partners
Submission fee is waived for the next game
Paid between $250 and $1000 (Payout is determined on the number of submissions received. Submissions fever than 50 do not warrant a payout to the game-winner)
SUPER MIC CHAMPION RECEIVES:
SINGLE RELEASE RADIO PACKAGE: The song of the champion's choice will be played on various digital and FM radio stations across 120 countries.
Free consultation for 30-days
Interview with one of our podcast partners
$1,000 cash prize
SUPER MIC Championship Belt
#1 ranking on the SvS Rankings
INTELLECTUAL PROPERTY RIGHTS:
Unless otherwise indicated, the information on this page is our proprietary property, and all source codes, databases, functionality, software, website designs, audio, video, text, photographs, and graphics on the Page (collectively, the "Content") and the trademarks, service marks, and logo contained therein (the "Marks") are owned or controlled by MSL, and are protected by copyright and trademark laws and various other intellectual property rights and unfair competition laws of the United States, foreign jurisdictions, and international conventions.
Frequently asked questions
Is the Submission Fee refundable?
Do I need a copyright for my song?
Does my song need to be under a Performance Rights Organization?
Does my song need to be registered with SoundExchange?
Can I use a song that's on YouTube?
How can I get my song(s) on Spotify/Apple Music