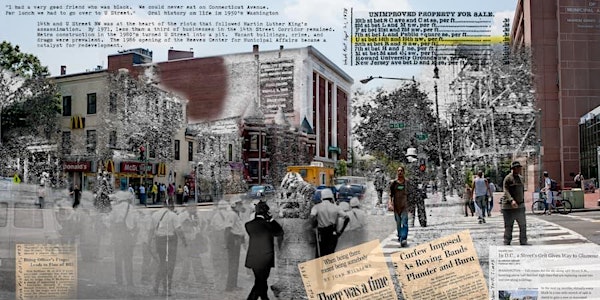 Gallery Talk: About Time- Greater DC and the Depiction of Urban Flux
Guest Speakers Dr. Marsha Coleman Adebayo, Veronica Melendez & Sarah Jane Shoenfeld present a talk on the exhibition "About Time"
By American University Museum at the Katzen Arts Center
Date and time
Saturday, April 29 · 2 - 3pm EDT
Location
American University Museum at the Katzen Arts Center 4400 Massachusetts Avenue Northwest Washington, DC 20016
About this event
Guest speakers and artist Gail Rebhan will discuss the exhibition "About Time" in a gallery talk titled "• Greater DC and the depiction of urban flux" scheduled for
Saturday 04/29 2:00- 3:00 pm
Basic Topic: Just as Rebhan explored the way the personal is political and both elements are subject to change over time, so too her art insists on the way the political so often finds its way into the changing shape and experience of our lives.
Panelists include: Marsha Coleman Adebayo, President of the Bethesda African Cemetery Coalition
Veronica Melendez, visual artist and a founder of diasporic arts publication, La Horchata
Sarah Jane Shoenfeld, Co-Founder of Mapping Segregation in Washington and Principal Prologue DC
Gail Rebhan, artist with retrospective About Time
Moderated by Sally Stein, Curator and Professor Emerita, Art History, University of California-Irvine
Exhibition Write-up: For better and worse, nothing stays still. DC artist Gail Rebhan (b. 1953) knows that well and this, her first museum retrospective, reflects on the many ways her work explores her many different ways over four decades of using and reconfiguring the time-slicing medium of photography to reflect on macro-and-micro-dynamics of interactions inside families—her own and that of other immigrants—on the centuries of change in diverse areas of the nation's capital, and on the marks of time revealed on her body (along with periodic attempts to fight it) from young adult, to mother of two sons, then caregiver of an aging father, to the present as she continues making art and living while facing the start of her 7th decade.
This event will be held in-person at the museum. Learn more about the exhibition.
Please direct any questions about this event to the museum's main contact for this event, Patricia Edwine-Poku at ppoku@american.edu.
Image: Gail Rebhan, 1400 U Street NW 1906/1968/2012, 2012. Archival pigment print mounted on aluminum, 14.75 x 25.625 inches.
About the organizer
Housed in the dynamic and multidisciplinary Katzen Arts Center, the American University Museum builds its programming on the strengths of a great college and great university. We focus on international art because American University has a global commitment. We show political art because the university is committed to human rights, social justice, and political engagement. We support the artists in our community because the university takes an active and responsible role in the formation of our contemporary art and culture.
We present exhibitions that mirror American University's aspiration to be the premier Washington-based, global university. Our programming puts the best art of our region in a national and international context. Our collections enable us to present the art history of Washington, while our Kunsthalle attitude brings the most provocative art of our time to our place.