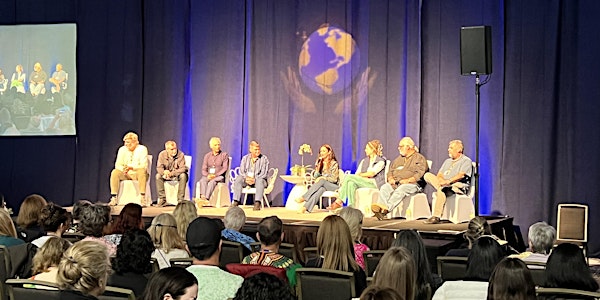 Galactic and Spiritual Informers Connection 2023: 3-DAY In-Person Event
Announcing the Galactic and Spiritual Informers Connection 2023 LIVE EVENT OCTOBER 20-22, 2023 in ORLANDO, FLORIDA
By Galactic and Spiritual Informers Connection
Location
DoubleTree by Hilton Hotel at the Entrance to Universal Orlando 5780 Major Boulevard Orlando, FL 32819
About this event
2 days 10 hours

Mobile eTicket
GALACTIC & SPIRITUAL INFORMERS CONNECTION 2023 LIVE EVENT
This is a 3-DAY IN PERSON EVENT
DESCRIPTION: Welcome to the Greatest Conference in DISCLOSURE on Earth. Galactics, humans, super soldiers, elders, hybrids and indigenous souls will gather over a 3-Day In-Person event. 
Our world class speakers will reveal THE TRUE HISTORY OF OUR PLANET AND TRUE HEALING TECHNOLOGY THAT IS HERE, ON EARTH!
First Contact has happened for many of our audience and most of our dynamic speakers who experienced being contactees, abductees and forced into off-planet military programs. We will share on and off planet top secret military, alien, multi-planet experiences uncensored with REAL proof of these events. 
Come and see our world class speakers, come and meet your star families, space force, the earth alliance and gather with those you can be your true self with. 
Our world-renowned speakers include Elena Danaan, Dr. Michael Salla, Chris O'Connor, Tony Rodrigues, Jean-Charles Moyen, Mélanie Charest, Brad Olsen, Dani Henderson, and more!
MORE INFO: Visit our website for a detailed (and most up-to-date) description of each speaker!
www.galacticspiritualinformers.com
You will have full access to our 3-Day in-person event, where you can watch all of our incredible speakers. At the Galactic and Spiritual Informers Connection, you can totally be yourself, come as you are, come as you feel, come as you know your true inner self to be, come meet your 'tribes' and raise your consciousness.
WHAT IS NEXT? After you purchase your admission ticket for the event, you will immediately receive event details including the information to book your hotel room at the DoubleTree (at a steeply discounted rate.)
** IMPORTANT NOTE: General Admission Ticket price does NOT include the Saturday evening Dinner & Disco Event, the hotel stay, ground transportation, or air travel. ALL TICKETS ARE NON-REFUNDABLE. No Exceptions! Please do not purchase a ticket if you are unsure of your ability to attend. **
WE LOOK FORWARD TO SHARING THIS INCREDIBLE EXPERIENCE!
If you feel alone and miss your star family, this is the place to be ---- COME BE WITH YOUR GALACTIC COMMUNITY!
__________________________________________________________________
VENUE: The event is held at the beautiful Hilton Doubletree Orlando 5780 Major Blvd, Orlando, Florida