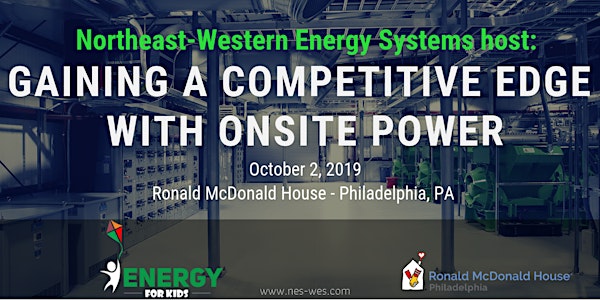 Gaining A Competitive Edge With Onsite Power
Location
Philadelphia Ronald McDonald House
3925 Chestnut Street
Philadelphia, PA 19104
An informative, free seminar regarding best practices for energy cost reduction, improved power-thermal resiliency and reliability.
About this event
Gaining a Competitive Edge with Onsite Power is an Educational, Informative Free Seminar that will supply you with tools and best practices assisting you with energy cost reduction, improved power-thermal resiliency & reliability. Simultaneously, we will be hosting this event at the Philadelphia Ronald McDonald House to raise awareness and donations (www.PhilaRMH.org/EnergyforKids) for the incredible work that they do throughout America! Check out the video below of our seminar in California last year.
AGENDA
• 8:00am – Breakfast
• 8:30am – Opening Remarks
• 8:45am – Building the Business Case for Onsite Power. An outlook on critical inputs that drive the business case for an onsite power project:
-- Energy policies & incentives
-- Electricity & natural gas prices
• 9:15am – Hybrid onsite power plants. Combining the strengths of three technologies into an onsite power solution:
-- Engines
-- Storage
-- Solar
• 9:45am – Case Studies. A discussion on best practices from recent onsite power & microgrid projects. Onsite power projects from the following industries will be shared:
-- Hotels
-- Campuses
-- Healthcare
-- Manufacturing & food processing facilities
-- Refrigerated warehouses & cold storage
• 12:00pm – Lunch
• 1:15pm – Tools. A brief overview of tools to help you go from interest to install
-- Modular power plants: Reducing your capex, risks & time
-- Demand response: A tool to improve your project economics
-- Financing: Getting your project funded
• 2:30pm – Wrap up and conclusion of presentations. Expert Sessions. (Optional). One-on-one and small group sessions to connect attendees with subject matter experts to answer specific questions to help them move projects forward.
• 3:00pm - Plant Tour. (Optional) Tour of a local combined heat & power plant.
Visit the following link to donate to the Ronald McDonald House through our Energy For Kids fundraiser: www.PhilaRMH.org/EnergyforKids