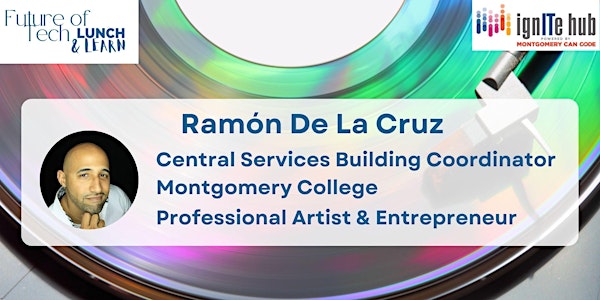 Future of Tech Lunch & Learn - Digital Transformation of the Artist's Craft
Future of Tech Lunch & Learn Series - Digital Transformation of the Artist's Craft
When and where
Location
ignITe Hub, Montgomery College, Mannakee Building 900 Hungerford Drive Rockville, MD 20850
About this event
This is a hybrid event and lunch will be provided for in-person attendees. Masks are required in the Hub. If you would like to attend virtually, register here: https://montgomerycollege.zoom.us/meeting/register/tJMpdOCoqz4vHtX5VTvkaskHiD90_l7pMvYD.
The ignITe Hub is launching a monthly Future of Tech Lunch & Learn Series. Each month, we will host a cutting-edge guest speaker to explore an innovative area in the world of technology. Topics will range from BioTech to Entertainment Technology and beyond. We will learn from notable industry experts about a specific type of technology, how this technology is being used to solve a community problem and what are unique career pathways related to this field.
Our featured guest speaker is Ramón De La Cruz who will present on how artists are enhancing their craft through Entertainment Technology. Mr. De La Cruz is the C.E.A. (Chief Executive Artist) at www.3DLCE.com /De La Cruz Enterprises LLC. From 2021-2022, professionally known as Munch, he published his first literary work titled "Time Is Greater Than Money Volume 1" and released his debut with 9 original songs on "LOVE the album". Mr. De La Cruz's multimedia work experiences brought him through the halls of industries such as Film/TV, Radio, Healthcare and Political Organizing. He leverages all his gained experience and network for his own company, soon launching 3DLCE TV for Afro-Latino focused programming.
At Montgomery College, he currently has the pleasure to serve in the Administrative and Fiscal Services Unit supporting college facilities, student services, human resources and administrators. Mr. De La Cruz is a father of 4 and currently resides in Maryland on his personal farm. He recently served as Chair of Staff Council and actively volunteers for student/community service coordinating groups like Advancing Latino Male Achievement (A.L.M.A.), the Outdoor Adventures club and an advocate for artist networks, seeking pathways for Art/Music majors to provide more equity in student support.