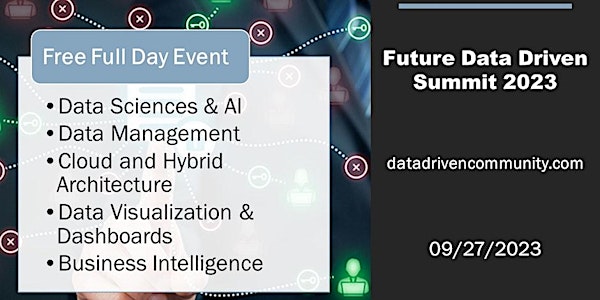 Future Data Driven Summit 2023 Sponsorship
Sponsor Data Driven Summit 2023, a marquee, online event focusing on the comprehensive Microsoft Data Platform
Refund Policy
Contact the organizer to request a refund.
Eventbrite's fee is nonrefundable.
About this event
Event Overview
Thank you for sponsoring Future Data Driven Summit 2023! This event is organized by the Data Driven Community and is put together by a group of dedicated Data Driven Community volunteers and local database user groups as well as volunteer speakers from across the globe.
Future Data Driven is a marquee, online event focusing on the comprehensive Microsoft Data Platform. Our mission is to inform and update attendees with Data & AI, DevOps & DataOps, PowerBI & Visualization, Integration & Automation and cloud infrastructure. We are excited to welcome you to participate at our second annual Future Data Driven online event.
Donations for this event will be used to cover the costs of running the event and the Data Driven Community User Group meetings.
Details on Future Data Driven Summit, including registration, sessions, speakers, and more can be found on the event site
Sponsorship Plans
The following sponsorship plans outline how you can support free technical online training and the benefits for your organization of sponsorship:
Bronze - $250
Sponsor Logo and URL on the event web site
Sponsor Logo and URL included in email campaigns
Sponsors logo included in session slides.
Sponsor logo included in YouTube videos.
Silver - $500
All of the benefits of the Bronze plan, plus:
Social media posts Facebook/Twitter/LinkedIn/Instagram.
Host a raffle and collect leads via the raffle entries
Email sent on behalf of a sponsor.
Gold - $1000 (Limited to 4)
All of the benefits of the Silver plan, plus:
12-months of Data Driven Community User Group sponsorship.
Sponsor and name a virtual room.
Platinum - $1500 (Limited to 2)
All of the benefits of the Gold plan, plus:
Sponsor a dedicated virtual Future Data Driven Summit channel where you can interact directly with attendees and chat.
Sponsorship Plan Notes
*To collect and received leads you must participate in the raffle and offer a raffle prize valued at $50.00 or more.
To sponsor please purchase a sponsorship ticket via this Eventbrite event page. Once complete, our organizers will contact you with further information on your sponsorship.
Cancellation Policy
Any cancellation that is caused by us will result in a full refund. No event, no expenses, no need for sponsorship money. Otherwise, sponsorships are non-refundable.
Raffle
The raffle registration is used to opt-in for us to share attendee information with our sponsors. The raffle prize is your key to success and the better the prize the more leads you will collect.
You provide a raffle prize to raffle off to the attendees. We will manage the raffle and collect, cleanup and de-duplicate the data for you and send you the leads after the event. We will let you know who the winners of the raffle are, and you can send them the prize. If you prefer that we manage the prize for you, please let us know and we will work out the details with you.
Frequently asked questions
What is the cancellation policy?
When does a sponsorship need to be paid?
Are alternative payment methods accepted?