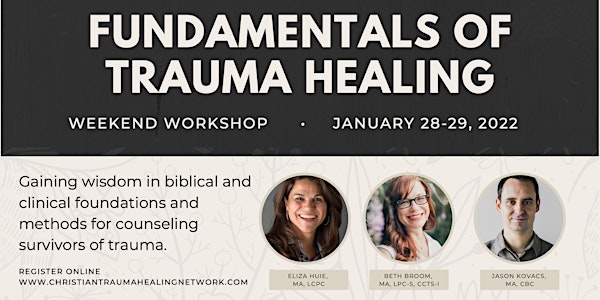 Fundamentals of Trauma Healing: Weekend Workshop
Christian counselors will learn foundational theory and method of treatment for trauma-related dysfunction and complex trauma disorders.
Refund Policy
Contact the organizer to request a refund.
Eventbrite's fee is nonrefundable.
About this event
Click HERE for a complete syllabus and schedule.
Meet our instructors!
Beth M. Broom, MA, LPC-S, CCTS-I (bethmariebroom.com)
Eliza Huie, MA, LCPC (elizahuie.com)
Jason Kovacs, MA, CBC (gospelcarecollective.com)
Elements included in the training:
A Biblical view of trauma healing
Attachment and trauma
The effects of trauma on the brain and body
Grounding techniques
Treatment tools and techniques
Schedule: (Central Standard Time)
Friday, January 28:
6:00-7:15pm Session 1: Trauma & the Biblical Worldview
7:15-7:30pm Break
7:30-8:45pm Session 2: The Body/Soul Connection
Saturday, January 29:
9:30-10:30am Session 3: Childhood Attachment and Trauma
10:30-10:45am Break
10:45-11:45am Session 4: Stage 1 Healing (Safety and Stabilization)
11:45am-12:00pm Break
12:00-1:00pm Session 5: Stage 2 Healing (Processing Trauma)
1:00-1:45pm Lunch
1:45-2:45pm Session 6: Stage 3 Healing (Integration of Healing)
2:45-3:00pm Break
3:00-4:00pm Session 7: Self-Care for Trauma Helpers
4:00-5:00pm Session 8: The Trauma-Informed Church and Society
Licensed Professional Counselors in Texas earn 8 hours of continuing education credit for this workshop.
If you are licensed in a different state, please email bethmbroom@gmail.com to learn whether you are eligible to receive continuing education credits for this workshop.