Event Information
Location
Strawberry Point School
117 East Strawberry Drive
Mill Valley, CA 94941
Description
Never miss out: get on MVGATE's priority notification list
Joyful, age-appropriate learning for both new and returning young digital explorers.
The first step on the Logical Reasoning Skills track, "Fun With Computers" starts kids on the continuing path of creating, not just consuming, digital content – even for kids who may still be learning reading, mouse, and keyboard skills. It's a delightful and enriching ongoing set of computer-science experiences: simple coding puzzles from Code.org; fun projects from Google's Made With Code, Google Maps and Google Earth; off-line programming games and activities; and for returning & older kids, more advanced coding fun goes on and on. It's great fun, and a sweet, gentle introduction to the rich and rewarding world of computer science. Suggested for grades K-2.
Seven Thursdays from Oct 12 to Dec 14 right on your campus, right after school. (No class over holidays and conferences.)

PLUS, Two Savings Opportunities:
Parent/Family volunteers receive

free tuition and a guaranteed spot

for their child in these popular classes.
After you sign up: Refer a Friend and earn

a $25 rebate

for each friend that signs up -- PLUS your friend saves $25 as well!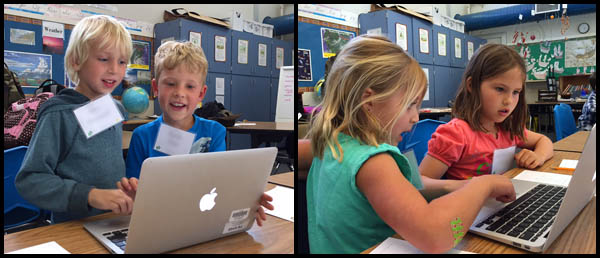 Date and time
Location
Strawberry Point School
117 East Strawberry Drive
Mill Valley, CA 94941