Event Information
Location
Dixie Elementary School
1175 Idylberry Road
San Rafael, CA 94903
Description
Basic skills and empowering adventures—for our youngest digital explorers.
Fun With Computers starts kids on the path of creating, not just consuming, digital content – even for kids who may still be learning reading, mouse and keyboard skills. It's a delightful and enriching first set of computer-science experiences: simple coding puzzles from Code.org; fun projects from Google's Made With Code, Google Maps and Google Earth; off-line "programming" games and activities; and, for our slightly older kids, more advanced coding fun using Lightbot or MIT's Scratch Jr. It's great fun, and a sweet, gentle introduction to the rich and rewarding world of computer science.
Seven Tuesdays from Dec 8 to Feb 2 right on your campus, right after school.
"That was hard.
[...pause...]
That was fun!"
--A Fun With Computers Kindergartner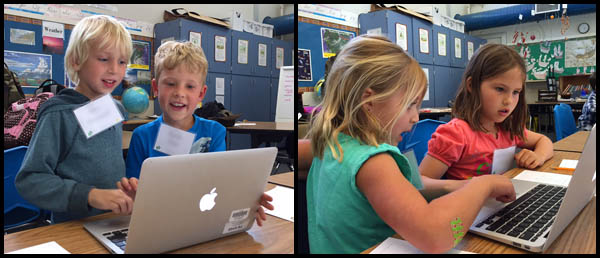 Date and time
Location
Dixie Elementary School
1175 Idylberry Road
San Rafael, CA 94903