Fullstack Apps mit React+GraphQL+Apollo - Workshop in Hamburg

Saturday, December 10, 2016 from 9:00 AM to 4:00 PM (CET)
Event Details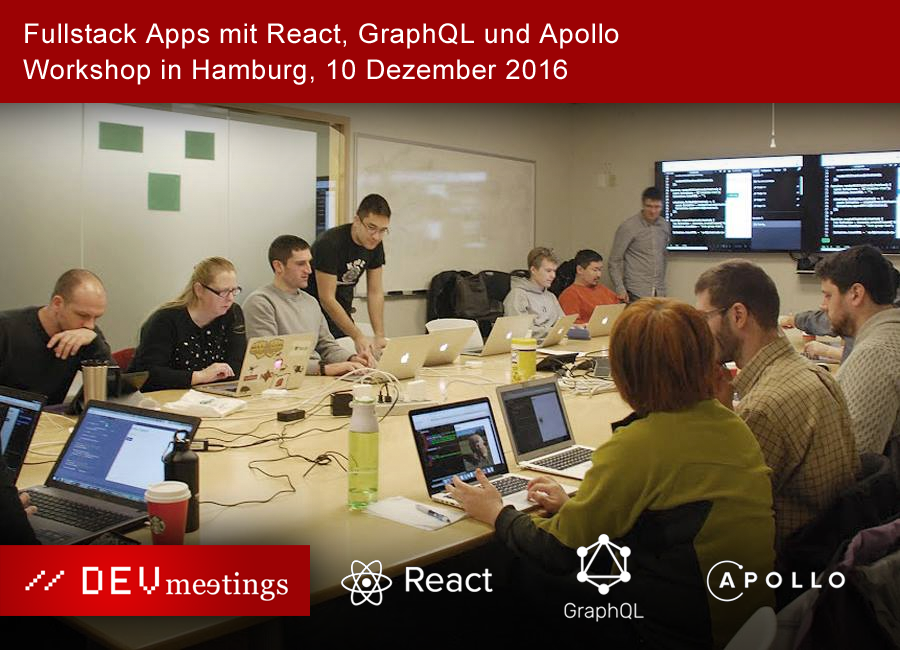 Bist Du JavaScript / React Entwickler? Lerne mit uns, wie man Fullstack Applications mit React, GraphQL  / Apollo entickeln kann. Am 10. Dezember 2016 in Hamburg, 9.00 - 16.00, kostenlos.
Auf dem Workshop konzentrien wir uns auf GraphQL und Apollo - Basiswissen über React sollen alle Teilnehmer mitbringen.
Warum solltest Du teilnehmen?
Hast Du schon über Apollo und GraphQL gehört, aber bist noch nicht sicher, wie man die Technologien einsetzen kann, welche Vorteile die Technologien bringen oder wie man die erste App mit React und Apollo entwickeln kann? Dann ist das ein Workshop für Dich!
Ziele des Workshops
- Verstehen, welchen Mehrwert Apollo liefert
- Vor- und Nachteile von Apollo Client verstehen
- Kernkoncepte von Apollo Client verstehen
- Lernen, wie man eine Apollo Client Anwendung implemenieren kann
Themen
- Was is Apollo?
- Queries, Fragments, Variables
- Traversing durch Data Graph
- Mutations, Caching

100% hands on! 
Während des Workshops werden die Teilnehmer von Null an eine simple, aber komplette App entwickeln, um die Konzepte von GraphQL und Apollo direkt einzusetzen. 
Die Trainer
Johannes Schickling. Berlin-based entrepreneur and founder of Graphcool, a GraphQL backend as a service. He previously built and sold the VR company "Optonaut". Johannes studied computer science at KIT and loves cutting-edge mobile/web technologies. Twitter: @_schickling, Github: schickling.
Nilan Marktanner. Software developer at Graphcool where he works on resources like tutorials, examples and articles. He enjoys giving workshops on meetups, hackathons or conferences.
Twitter: _marktani Github: marktani.

Tech-Partner für dieses DevMeeting 
Graphcool is a powerful backend-as-a-service platform for GraphQL used by companies like Twitter to quickly iterate on new products. In just 5 minutes you can setup a complete backend that works with frontend frameworks such as Angular, Apollo, Relay, React & React Native. Includes built-in integrations for popular services.
Sponsor


Interone is a digital agency. We help companies with the digital transformation of their business. This includes transformative platforms as well as effective campaigns and always-on communication. We have offices in Munich and Hamburg and are a part of the international BBDO network. We count BMW, E.ON and Telefonica to our clients.  
Praktische Informationen
Wo: Veranstaltungsort im Stadtzentrum, genaue Locations wird an den Teilnehmern mitgeteilt.
Wann: Samstag, den 10. Dezember 2016, Beginn um 9:00 (Einlass 8:30), Ende etwa 16:00.
Was soll man mitbringen: Bring Your Own Laptop (mit installiertem Google Chrome).
Wie soll man sich vorbereiten: Jeder Teilnehmer soll vor dem Workshop die Kernkonzepte React kennenlernen
Teilnahmekosten: Kostenlos - vielen Dank an Inteone für das Sponsoring des Events.
Sprache: Dieses DevMeeting wird auf Deutsch durchgefüht
Was ist ein DevMeeting?
DevMeeting ist ein Mix von Hackathon und Workshop. Den ganzen Tag lang implementieren die Teilnehmer eine Beispiel-App – selbstständig und in Teams. Die fachliche Seite wird durch erfahrene Mentoren beaufsichtigt, die die ganze Zeit zur Hilfe stehen, Diskussionen provozieren und ihr praktisches Wissen weitergeben.
DevMeeting ist weder eine Vorlesung noch eine klassische Schulung. Wir setzen auf die Praxis, Coding und Wissen- und Erfahrungsaustausch. Es ist auch eine hervorragende Gelegenheit, andere Entwickler kennenzulernen und wertvolle Kontakte mit Developern zu knüpfen.
Have questions about Fullstack Apps mit React+GraphQL+Apollo - Workshop in Hamburg?
Contact DevMeetings
When & Where

Hamburg
Germany


Saturday, December 10, 2016 from 9:00 AM to 4:00 PM (CET)
Add to my calendar
Organizer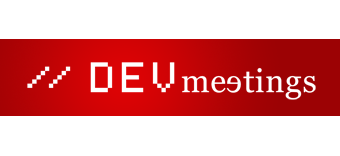 DevMeetings
Ein DevMeeting ist ein ganztägiger Mix zwischen Workshop und Hackathon – vorbereitet durch Entwickler mit Leidenschaft. Seit 2011 haben wir bereits mehr als 100 DevMeetings veranstaltet, z.B. über die Themen Responsive Webdesign, ServerSide, JavaScript Game-Entwicklung und vieles mehr.
Fullstack Apps mit React+GraphQL+Apollo - Workshop in Hamburg