Description
Are you a Bay Area changemaker or aspiring to be one? Come mingle and meet like-minded people for an evening of networking and socializing in service to social good. Help us shape our 2019 Capacity Building Workshop series—designed for volunteers and nonprofit leaders to come together to accelerate social change in the Bay Area.
We want to know:
What challenges are you facing as a nonprofit leader? How could volunteers serve you best?

What community issues do you want to give back to as a volunteer? What questions do you have about how to use your time and skills to help your community?
---


WHO IS COMING?
This event is for changemakers of all stripes working together and volunteering to make the Bay Area more connected and equitable for us all. If you're curious and eager to become a volunteer with impactful organizations or you are a nonprofit leader we don't know, please grab friends and colleagues, and join us.
We'll discuss briefly the intent of the 2019 Capacity Building Workshop series, set to launch in May, through a quick 15 min intro. Come hear from last year's Full Circle Fund Members and participants about their experiences.

These strategic leaders donate their time, dollars and networks as Full Circle Fund Members to work with our group of Full Circle Fund Members who shape our capacity building workshop series.
OUR CO-HOST
Rootid is an award-winning, full-service communications agency that empowers socially conscious organizations and higher learning institutions to do more. Their team takes a mission-driven, data-based approach to help changemakers strengthen their communities and deepen their impact. Meet their co-founders. Over the last three years, they've spearheaded and helped shape our Capacity Building Workshop series.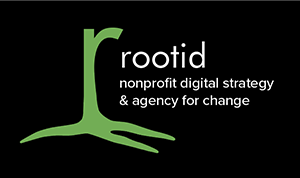 AGENDA
6:00pm - 6:30pm Registration, Networking and Refreshments
6:30pm - 6:40pm Context Setting for the Evening
6:40 - 7:00pm Get to Know the Full Circle Fund Changemaker Community
7:00pm - 8:00pm Continue Networking
Refreshments provided by Farming Hope,

a nonprofit providing transitional employment and training in the culinary industry to unhoused and low-income people in our community.

Drinks available at cash bar.