Actions and Detail Panel
FTF On Tour I FinTech meets Telecom
Thu, March 23, 2017, 9:30 AM – 5:30 PM CET
Description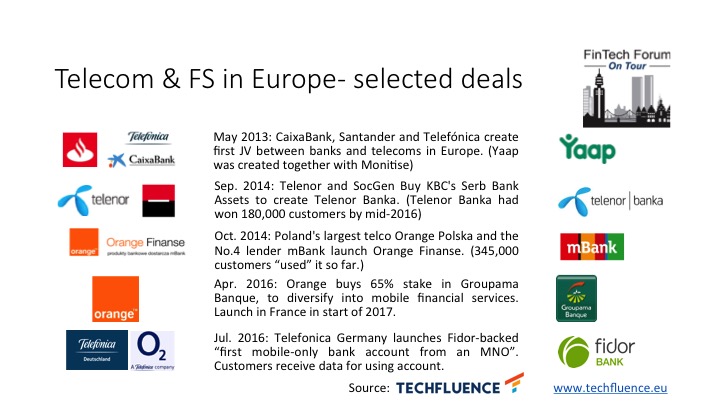 Mobile and Telecom-driven financial services for the "unbanked" are fast becoming the norm in emerging markets, but have yet to reach scale in Europe.
However, we see several factors coming together that could change the game:
the rise of young and mobile millennials as well as a tech-savvy older generation in Western Europe

a young, "underbanked" Central & Eastern Europe

a slew of recent deals (see chart) and

the EU Payment Services Directive 2 (PSD2) legislation coming into effect by January 2018.
An invitation-only initiative run in collaboration with respective European sector experts, FTF On Tour | FinTech meets Telecom, is the first to bring together FinTech startups with investors, telecoms and financial institutions looking to tap into these emerging opportunities in Europe.
Fifteen startups with the most compelling propositions in this space will be selected to present to an invitation-only audience of leading investors, telecoms and financial institutions on 23rd Mar. 2016 at the Airport Club, Frankfurt Airport.
Panel discussions with those at the forefront of this space will highlight the potential opportunities, challenges, the learnings so far and what to expect in the next 6-18 months.
Startup applications and nominations are open: request your application form at info@techfluence.eu (Subject: #FTFTelecom)
Sponsoring opportunities: please contact info@techfluence.eu or Tel: +49 69-274015-856
---
(DRAFT) AGENDA
09:30 Event Registration
10:30 Welcome Address
10:40 FinTech meets Telecom: Startup & Deal Landscape
11:00 Startup Pitches I
12:00 Panel Discussion: PSD2, FinTechs, Telecoms, APIs...- What Can European Banks Pull Off?

12:45 Networking Buffet
13:30 Startup Pitches II
14:30 Coffee Break
15:30 Startup Pitches III
16:00 Panel Discussion: The Telecoms' Dilemma- to B(ank) or not to B(ank)?
16:45 Closing Remarks & Networking Drinks
Date and Time
Location
Airport Club
Frankfurt Airport Centre I
Hugo-Eckener-Ring 1
60549 Frankfurt
Germany