Location
Airport Club
Frankfurt Airport Centre I
Hugo-Eckener-Ring 1
60549 Frankfurt
Description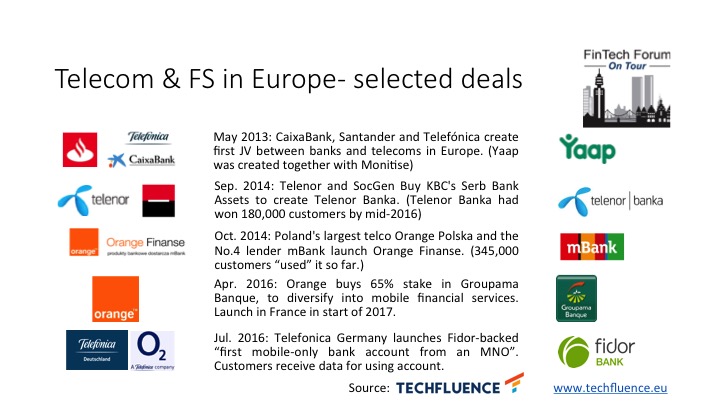 Mobile and Telecom-driven financial services for the "unbanked" are fast becoming the norm in emerging markets, but have yet to reach scale in Europe.
However, we see several factors coming together that could change the game:
the rise of young and mobile millennials as well as a tech-savvy older generation in Western Europe

a young, "underbanked" Central & Eastern Europe

a slew of recent deals (see chart) and

the EU Payment Services Directive 2 (PSD2) legislation coming into effect by January 2018.
An invitation-only initiative run in collaboration with respective sector experts, FTF On Tour | FinTech meets Telecom, is the first to bring together FinTech startups with investors, telecoms and financial institutions looking to tap into these emerging opportunities in Europe.
Fifteen startups with the most compelling propositions in this space will be selected to present to an invitation-only audience of leading investors, telecoms and financial institutions on 23rd Mar. 2016 at the Airport Club, Frankfurt Airport.
Panel discussions with those at the forefront of this space will highlight the potential opportunities, challenges, the learnings so far and what to expect in the next 6-18 months.
Contact: Tel: +49 69-274015-856
---
EVENT PARTNERS
http://www.strategyand.pwc.com/de/home
http://digital.pwc-tools.de/reimagine-fs/#events
http://www.wendelstein-llp.com/
---
AGENDA
09:30 Event Registration
10:30 Welcome Address
10:40 FinTech meets Telecom: Startup & Deal Landscape
11:00 Startup Pitches I: Cardlay, figo, Lenderwize, Loqr, niiio

12:00 Panel Discussion: PSD2, FinTechs, Telecoms, APIs...- What Can European Banks Pull Off?

Filip Horner- MoneYou (ABN Amro)
Dr. Jörg Sandrock- Partner, PwC Strategy&
Nadja Schlössel- Global Strategy & Brand, figo
Sanjiv Purushotham- Partner, Bridge
Moderator: Axel Apfelbacher, Executive Consultant- FinTech
12:45 Networking Buffet
13:30 Startup Pitches II: Authada, massUp, Oraclize, PocoPay, pOw
14:30 Coffee Break
15:00 Startup Pitches III: Quantoz, SEPAexpress, Prunto, Tango, Accourate

16:00 Panel Discussion: The Telecoms' Dilemma- to B(ank) or not to B(ank)?
Clemens Grond- Sr. Product Manager Innovation, Telefonica
Indrek Neivelt- Co-Founder & CEO, PocoPay
Martin Navratil- CEO & Chairman, Telenor banka
Selma Ribica- Director, Lebara Financial Services
Moderator: Samarth Shekhar, Co-Founder, Fintech Forum
16:45 Closing Remarks & Networking
PRESENTING STARTUPS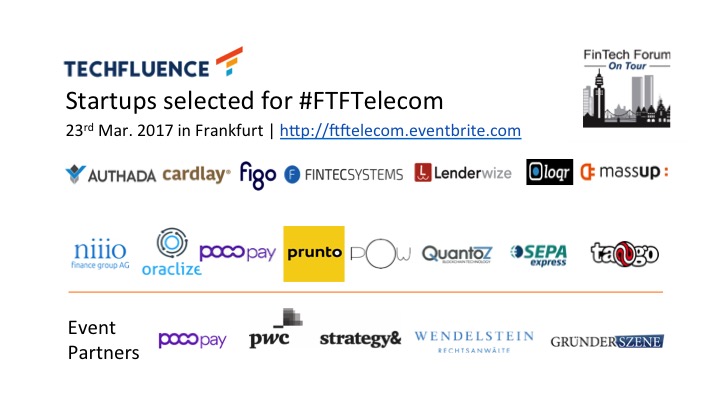 Cardlay: Issue, load & manage payment cards for enterprise
figo: figo banking API bridges the gap between new and innovative financial services and 3100 sources of finance with over 55 million users
Lenderwize: First CrowdLending platform for Telcos. "Telco Crowd Investor" cretaes a new asset class to invest in.
Loqr: Replace insecure authentication methods with our continuous state-of-the-art Dynamic Authentication as a Service.
niiio: Move beyond commodity services with mobile ready-to-use robo-advisory software and apps.
Authada: verifies your customers identity using the electronic identity (eID) of the identity card and the NFC interface of the smartphone within seconds.
massUp: offers an insurance API and white-labeled platform for financial institutions as well as telecoms to offer special / annexe insurance for everything from mobile phones to coffee machines.
Oraclize: Turn your digital ID into a banking platform- the data carrier for decentralized apps.
PocoPay: a beautiful banking account for people that are always on-the-go. Easy to open, fun and secure to use.
pOw (Pay+Now): Your money everywhere- even without a bank account, and only with a mobile number and/or a Facebook profile.
Quantoz: Offers an open-standards, distributed settlement infrastructure for banks to enable instant, micro payments between enterprises, people and devices in the Internet of Things, compliant with regulations.
SEPAexpress / b4payments: white label solution to process Direct Debits faster and more cost effective- turn SEPA DirectDebits into a true alternative to credit cards!
Prunto We leverage MNO data to match customers with financial products and services most appropriate to their immediate needs and situation
Tango / qsystems: Interconnects e-commerce, m-wallets etc. to cash consumers and traditional cash collection points (such as post offices, banks, payment agents).
Accourate / FinTecSystems: with fully automated financial analysis based on online banking data, accourate enables the digitization of banks.
PARTICIPANTS

ABN Amro
Acxit Capital Partners
Aegon
Authada
b4payment
Bankhaus Lampe
Börsen Zeitung (Press)
Cardlay
CommerzVentures
Deutsche Telekom
DSER GmbH
GMH Ventures
figo
FinTecSystems
Frankfurt School
Handelsblatt (Press)
Huawei Technologies Deutschland
Institut für Qualitätssicherung und Prüfung von Finanzdienstleistungen
KfW Bankengruppe
Lebara Financial Services
Lenderwize
Lighthouse Corporate Finance
Loqr
Lufthansa Miles & More
Lufthansa Airplus Servicekarten
Möhwald Consulting + Management
MoneYou
Mountain FinTech
NIBC Bank
niiio finance
Oraclize
PocoPay
pOw (Pay+Now)
PwC Strategy&
Quantoz
Quanvest
Q-Systems
Schanz & Coll.
SMC GmbH
SEPA Credit Union
SEPAexpress
Sympho
Tango
Telefonica
Telenor banka
Telia Eesti
Telia Finance AB
T-Systems
Ventegis Capital
VCDE Venture Partners
Wendelstein
EVENT PARTNERS
Pocopay
is a digital bank solution featuring everything from payments, statements and requesting money to splitting bills between friends. Pocopay brings together the good old familiar and secure bank account and fills it with newest opportunities and features. Pocopay can help offer a cool and simple payment and banking account for urban millennials within few months – via JV, white-labelling or fully-hosted offering.
Strategy&
ist ein globales Team praxisorientierter Strategen. Unser Ziel ist es, unseren Klienten jederzeit den entscheidenden Vorteil zu verschaffen. Wir verfügen über 100 Jahre Erfahrung in der Managementberatung und kombinieren diese mit der einzigartigen Industrieerfahrung und den Ressourcen von PwC. Wir sind Teil des weltweiten PwC-Netzwerks. PwC bietet mit mehr als 223,000 Mitarbeitern in 157 Ländern branchenspezifische Dienstleistungen in den Bereichen Wirtschaftsprüfung, Steuer- und Unternehmensberatung an.
Wendelstein
is a dynamic team of lawyers specialising in business law.We advise companies and entrepreneurs, executive and supervisory board members and managing directors, investors and private individuals as well as insolvency administrators on par with the leading large law firms. From our joint previous experience, we are particularly qualified to work on challenging legal matters.