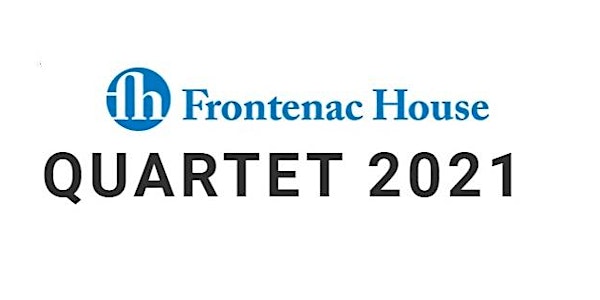 Frontenac Quartet Launch
Join Planet Earth Poetry to celebrate this year's Frontenac Quartet: Wendy Donawa, Tyler Engstrom, D.A. Lockhart, and Andrea Thompson.
About this event
Planet Earth Poetry hosts this special Zoom launch of Frontenac's 2021 Quartet!
Andrea Thompson
Andrea Thompson is a poet, novelist, educator and editor at Brick Books . Her poetry album One, was nominated for a Canadian Urban Music Award, her album Soulorations earned her the 2019 LCP Golden Beret Award, and she is the recipient of the 2021 Pavlick Poetry Prize.
In A Selected History of Soul Speak, Andrea Thompson investigates the intersection of page and stage, and the evolution of spoken word as a hybrid form of literary orature. From the slave songs and spirituals of the cotton fields of the Old South, to the smoky coffee houses of the Harlem Renaissance, to today's slam stages and rap battles, these poems elevate the written and spoken word as vehicles for individual empowerment, collective agency and social justice.
D.A. Lockhart
D.A. Lockhart is the author of nine books, including Bearmen Descend Upon Gimli (Frontenac House, 2020) and Breaking Right: Stories (Porcupine's Quill, 2021). His work has appeared in Best Canadian Poetry in English 2019, TriQuarterly, ARC Poetry Magazine, Grain, Belt, and the Malahat Review among many. He is a Turtle Clan member of Eelünaapéewi Lahkéewiit (Lenape), a registered treatied member of the Moravian of the Thames First Nation, and currently resides at the south shore of Waawiiyaatanong (Windsor,ON-Detroit, MI) and Pelee Island. His work has been generously supported by the Ontario Arts Council and the Canada Council for the Arts. He is the publisher at Urban Farmhouse Press and poetry editor for the Windsor Review.
Bearmen Descend Upon Gimli is a contemporary myth told in lyric form. The poems in this collection follow Raymond Northwind, a past-middle-aged Odawa guy, who happens to be the icemaker and custodian for the Peter Glint Memorial Curling Club. Fate finds Northwind in his Gimli, Manitoba exile and because of it, he brings forth a semi-supernatural curling team of Cree "bearmen" to face off against the best teams from around Canada for a large and prestigious prize. Below the surface of these poems there are meditations on the role of ceremony, the place of sport in culture, the spirit of the land, and those that come to inhabit it. This work inhabits the intersection of cultures in Canada as facilitated by what is often seen as a quintessentially Canadian sport, curling, in a place that is the geographic midpoint of Canada.
Tyler Engström
Tyler Engström is from Calgary, AB. In 2017 he was a finalist for the Writer's Trust RBC Bronwen Wallace Award for Emerging Writers. His poems have previously been collected in Drifting Like a Metaphor: Calgary Poets of Promise. Think of How Old We Could Get is his first book.
Think of How Old We Could Get is an existentialist tour guide led by a clean-eyed nihilist or an unreliable narrator. These poems are about eating oysters, Ferrari jackets in deadbeat bars, crying men, and poisoned generations. These poems are a reflection of our culture and the meaning of being a real human person, focused on the things you don't even look twice at, even when they're staring right at you. These poems are also about none of these things.
Wendy Donawa
Victoria poet Wendy Donawa lives on the traditional territory of the Songees and Esquimalt peoples. Her poems appear in journals, anthologies, and her three chapbooks. Her first collection, Thin Air of the Knowable, (Brick Books, 2017), was a finalist for the Gerald Lampert Award. Our Bodies' Unanswered Questions is her 2nd book.
Our Bodies' Unanswered Questions is peopled with casualties of colonizing desires. It revises mythical, historical and personal narratives, scrutinizes time's unstoppable flow, and charts the body's mortality, its capricious heart. The struggle to find grace-notes of love and beauty in our present historical moment animates these poems: tough and lyrical, they resonate with authentic feeling, cultural urgency, and a quirky sense of humour.