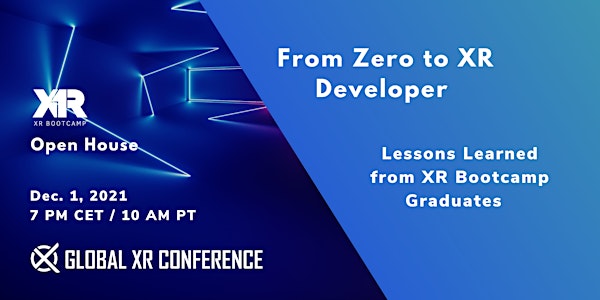 From Zero to XR Developer: Lessons Learned from XR Bootcamp Graduates
Join our graduates to celebrate and discuss their final graduation projects: Lessons Learned from 4 Months XR Bootcamp. From Zero to XR Dev
About this event
Lessons Learned from a Beginner VR Developer's perspective!
The last 4 months of learning have been challenging, but very rewarding.
Join our proud graduates of the first XR Foundations and Prototyping Bootcamp, ask any questions you may have about learning VR development!
Graduates will also present their outstanding graduation projects to the community.
Further topics:
Challenges you will encounter when learning XR development
What it takes to fast-track your experience
Why prototyping different use-cases are important for success
How XR Bootcamp Mentors are supporting students
Learn more details about what our students went through here:
This event is part of the Global XR Conference. Please register!