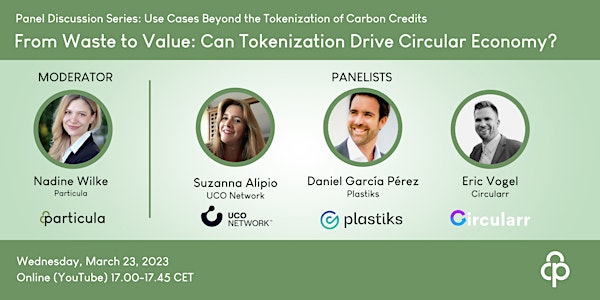 From Waste to Value: Can Tokenization Drive Circular Economy?
Panel discussion hosted by Particula on "From Waste to Value: Can Tokenization Drive Circular Economy?"
Date and time
Thursday, March 23 · 9 - 9:45am PDT
About this event
The so-called "Regenerative Finance" space, a movement that advocates using DLT as an infrastructure to transform the economy to become more inclusive and sustainable, has boomed in the past year.
We are currently seeing 500+ projects working to overcome the shortcomings of the traditional ESG market and lay the groundwork for effective and efficient capital allocation to sustainable assets. And there are more and more every week.
A key aspect in the ReFi space is the mapping of carbon credits on the blockchain, but we are also witnessing the emergence of projects from other areas such as renewable energy, circular economy, project finance, impact investing, gaming as well as first sustainable metaverse applications.
In this panel discussion, we will go beyond the tokenisation of CO2 and talk to projects that are already having tangible impacts in the circular economy. We will also discuss different tools within web 3 and why they can offer different solutions to global environmental and related social challenges.
Join us for an engaging and thought-provoking discussion on the future of ReFi, elaborating on the following questions:
What is Regenerative Finance (ReFi)?
What are the benefits of blockchain technology in the circular economy?
What promising use cases already exist that are having a tangible impact today?
What are challenges in this area and what steps need to be taken for mass adoption?
You will also have the opportunity to ask questions directly to the panelists.
Panelists
Location and Date
Location: Online on YouTube. Details for the live broadcast will be sent to you on the day of the event (no prior software installation required)
Date: March 23th, 2023
Time: 17.00–17.45 CET
Language: English
Agenda
17:00 - Welcome and introductory words (Nadine Wilke, Co-Founder at Particula)
17:05 - Intro panel discussion: "From Waste to Value: Can Tokenization Drive Circular Economy?"
17:45 - End of online panel (Nadine Wilke, Co-Founder at Particula)
Tickets and registration
Required via Eventbrite; you will receive the URL for the live stream in advance.
Registration closes half an hour before the start of the event.
Who should participate?
Companies and institutional or retail investors who want to understand why blockchain and tokenization will become a core part of circular economy and how use cases will evolve with blockchain technology
Employees and decision-makers from the financial and capital market industry interested in sustainable business models and emerging opportunities associated with tokenization
Other groups of people with interest in sustainability, circular economy, crypto assets, technology, and digitization
Contact
Particula GmbH
E-Mail: info@particula.earth
Web: www.particula.earth
About Particula
With Particula, we are building the first data platform and comparison tool for digitized assets at the intersection of sustainability and web 3. Starting from on-chain carbon credits, we offer quality ratings and in-depth reports with a special focus on regulatory, compliance and security aspects.
Privacy policy: By registering for this event, I agree to receive emails from Particula GmbH about courses and events in the areas of blockchain, DLT, sustainability and digital assets.