Description
The cowboy on the cattle drive taking the herd to market is a classic image of the American West. But there's a lot more to a cow than just a steak wrapped in leather, and a lot more to raising them than just putting them out on the range. Hear from the modern cowboys who raise cattle and the ranch chef for Meyer Natural Foods, supplier of natural grass-fed beef for this event, and experience the many ways that beef can be used in food, from unusual cuts of meat to suet crust pies.
Tickets include plates from multiple food stations, access to the galleries and garden, and presentations by chefs and food history experts.
---
Menu subject to slight changes based on ingredient availability.
Sponsors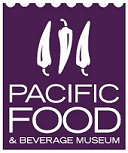 Presented in collaboration with the Pacific Food and Beverage Museum and the Museum of the American Cocktail.