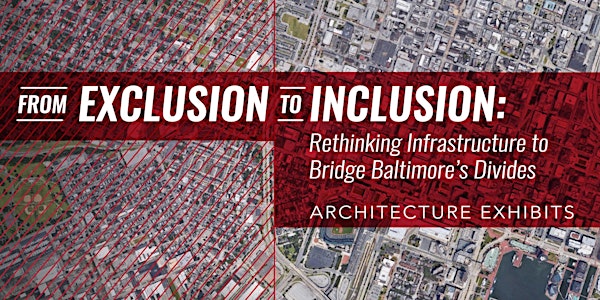 From Exclusion to Inclusion: Architecture Exhibits at 1100 Wicomico
Location
1100 Wicomico
1100 Wicomico Street
Baltimore, MD 21230
Sales Have Ended
Ticket sales have ended
Description
Architecture Exhibits at 1100 Wicomico
During AIA Baltimore's Architecture Month and Baltimore Innovation Week, several exhibits are displayed on the 1st floor of the 1100 Wicomico building in Pigtown from October 7-14, 2019.
Exhibits are FREE and open to the public. Donations are appreciated but NOT required to attend the exhibits! Exhibits are open to walk-ins. (But if you do want to make a donation, click the "Tickets" button.)

Hours: Weekdays 9am-5pm.
The building is handicapped accessible.

FEATURING THESE EXHIBITS:
1. Undesign the Redline
A national travelling exhibition by Designing the WE. Explores the history of structural racism and classism, how these designs compounded each other from 1938 Redlining maps until today, and how WE can come together to undesign these systems with intentionality. More info about this exhibition

2. JUST Baltimore and JUST Rotterdam
Graduate architecture student work from Spring 2019 studio by Rotterdam Academy of Architecture and Urban Design (RAvB) and Morgan State University School of Architecture + Planning (MSU SA+P), centered on the neighborhoods of Pigtown in Baltimore and Hillesluis in Rotterdam.
3. International PARK(ing) Day Designs
MSU SA+P student proposals for installations for PARK(ing) Day 2019 near MLK Boulevard, including photos of the final design implemented near MLK Boulevard with sponsorship by Brick and Board on September 21, 2019. International PARK(ing) Day is an annual, global event that encourages the temporary transformation of parking spaces into enjoyable, parklike spots.

---
These exhibits are part of AIA Baltimore's 2019 Architecture Month.
These exhibits are companion exhibits to a one-day symposium on October 10 called From Exclusion to Inclusion: Rethinking Infrastructure to Bridge Baltimore's Divides.
hashtag for these exhibits:

#bridgethedivide
VENUE


1100 Wicomico Street, Baltimore, Maryland 21230 1100wicomico.com

Surrounded by biotech, industrial design and academic institutions, 1100 Wicomico champions innovation and collaboration. We give entrepreneurs the space and support they need to scale their businesses. And we call Pigtown—the city's historically hard-working neighborhood with quick access to major transportation routes—home.
1100 Wicomico is also the site for several sessions during the Baltimore Innovation Week 2019 in October.
ORGANIZED BY
Cristina Murphy, Assistant Professor, Morgan State University, School of Architecture + Planning (MSU SA+P) & Co-Founder and Architect Associate, XCOOP
With assistance from Baltimore-Rotterdam Sister City Committee (BRSCC)
PARTNERS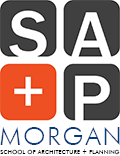 MADE POSSIBLE IN PART BY FINANCIAL SPONSORSHIP FROM