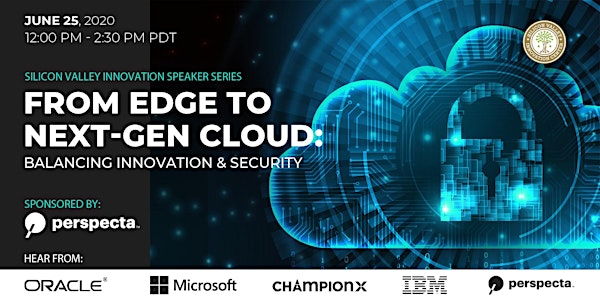 From Edge to Next-Gen Cloud: Balancing Innovation & Security
Join us online on Thur, June 25th 12pm PDT/3pm EDT ,register to receive your link today.
Refund Policy
Contact the organizer to request a refund.
About this event
Balancing Innovation and Security
Edge services are expanding with the exponential growth of intelligent and always connected devices. Cloud edge products and technologies are further pushing this explosive growth, but are also presenting new challenges in management and security
Learn about :
Maturing of hybrid cloud solution
What is the threat surface and why they are key to next generation cloud
How you can secure threat surface and enterprise grade cloud deployment
Hub and Spoke model for securing the transit routing
Various tools and infrastructure for cloud security
LIVE AND ONLINE FOR MAXIMUM FLEXIBILITY !
100+ Participants
Join the curated group of executives and global leaders
JOIN ONLINE FROM AROUND THE WORLD ON JUNE 25TH, 2020 TO HEAR FROM
Perspecta : Bob Ferrari , Senior product manager for hybrid cloud
Oracle : Shyam Nath, Enterprise, Cloud Architect & Javi Ramirez , Senior Solutions Architect
Microsoft: Manish Amin, Principal Solution Specialist
Apergy : Rohit Robinson, Vice President, Product Management
IBM : Steven Ocepek, Chief technology Officer of the X-force Red (White hat hackers)
If you have been invited as a VIP Free guest, please reply on the invitation thread to receive your free code.
Register today!