About this event
Recital by Czech mezzo-soprano Ester Pavlů and Slovak baritone Vladimír Chmelo, accompanied by pianist Ahmad Hedar, celebrating the 180th anniversary of Antonín Dvořák's birth and the 80th anniversary of Bohuslav Martinů's arrival in the United States.
Complimentary admission. RSVP required.
Suggested donation $20 for this special event in memory of Edward "Duke" Dellin, Chairman of the Prague Committee of Sister Cities International, who passed away October 30th. All proceeds will go toward language and cultural programs at T.G. Masaryk Czech School.
Please note that audience members are required to provide proof of vaccination and to wear masks.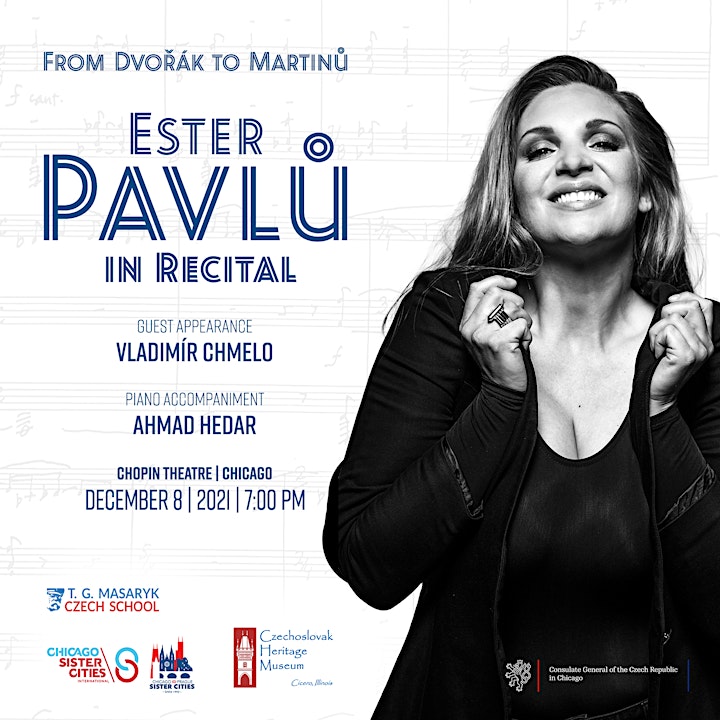 Organizer of From Dvořák to Martinů. Ester Pavlů In Recital.
According to the Theater Historical Society of America, Chopin Theatre opened March 1918 and was designed by architects Worthmann & Steinbach. The nickelodeon orginally had 546 seats and was operated by Victor Bardonski. In 1923 it was renamed the Harding and seating capacity was expanded to 987. By 1931 it was called Chopin again but underwent another name change to the Pix Theater. The building is located across the Polish Triangle in the area once named Polish Downtown.
In 1955 the building changed to Security Federal Savings & Loan which later moved across the street.  When the Dyrkacz Family purchased the building in 1990, it was vacant except for the small 200 sf Eddie's Bistro.  The Dyrkacz's have gradually restored the building to its present charm.  Today, across three stages, Chopin Theatre presents over 500 events annually ranging from theater to jazz and classical music, literature, film and social events.
 Chopin Theatre has presented over 120 of its own productions, mostly Eastern and Central European.  It has hosted performers from each American state and from over 40 countries.  It produced I-Fest, an international festival of solo performances bringing 17 international artists from Austria, England, Finland, France, Germany, Lithuania, Poland, Russia, Slovenia, Switzerland and Ukraine to Chicago.  The venue has attracted over over 1 million people to its events.

Since 1990 over 2,000 events and thousands of artists have graced the Chopin Theatre stages. For complete information visit our Archives.  To present at Chopin Theatre, contact us at info@ChopinTheatre.com