About this Event
After the great success of #1, we're doing it again!
"Josh ran a hilarious "On-Nomi" event to help people engage during a pretty harsh time. Well Done"
"Questions were a great mix of difficulty, loved the chance to meet people in chat rooms. Loved hearing all the Aussie accents! It was a wonderful, fun break in routine during this crazy time." - Miriam
"This was a great idea! Moving country is very isolating, even without a global pandemic, and this was a wonderful way of meeting other expats" - David & Jacky
"Josh is a ray of sunshine. He puts his heart and soul into everything he does and spreads happiness to all." - Gina
Working from home is ok for a little bit but has its drawbacks. After a whole week of being inside and distancing yourself from others I can imagine that you are probably going a little bit crazy... so why not join me for drinks?
We're living through serious times, so this is your chance to take a deep breath and debrief.
Prepare yourself a cocktail, or a wine, or a beer, or a soda, or a cold glass of water, and join in for a chat. There'll be trivia, and we'll make it just like you're at your favorite bar.
You can join in or just sit and watch from a quiet corner of the bar.
See you there!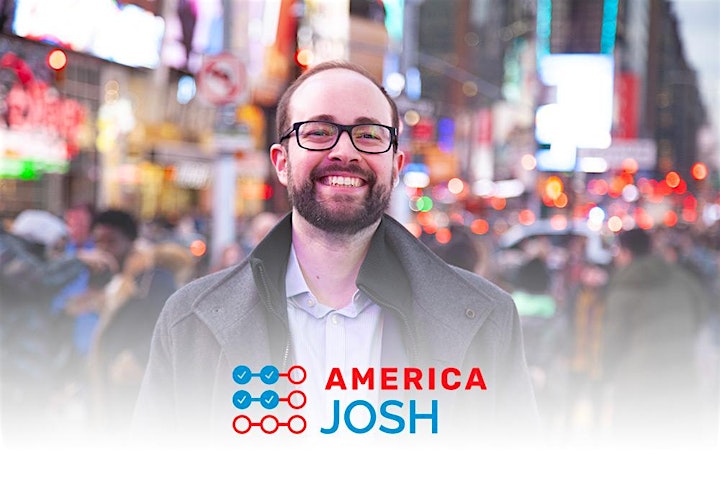 Josh moved to New York City from Adelaide, South Australia in the middle of a cold 2017 winter. While there was no real plan but it was clear that the city and its 7 million+ people meant for all sorts of adventures and opportunities.
After arriving though it was clear that transitioning your life from one country another was a pain, and there was no real advice to help you order a sandwich properly, let alone arrange for real things like Social Security. So he started America Josh.
America Josh is an online guide and community network helping expats from all over the world move to and thrive in America.
The mission of America Josh is to make the transition more straight forward and life abroad less stressful on individuals. AmericaJosh.com includes guides, reviews, tools, recommendations, and community-generated content to help with a move whether they are in the early stages of planning, have a firm plan to move, or have already made the move.
These online resources coupled with events and community recommendations provide a full suite of knowledge and assistance for anyone moving to or living in the U.S.
Proudly presented by Josh Pugh of America Josh. By registering for this event, you agree to receive e-mail communication from us.