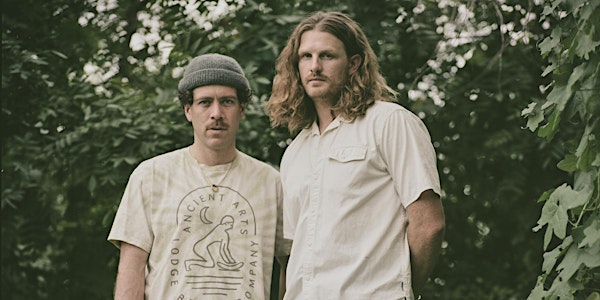 Location
DC9 Nightclub
1940 9th St NW
Washington, DC 20001
FRENSHIP

WEBSITE | FACEBOOK | INSTAGRAM | TWITTER | SPOTIFY | BANDCAMP | SOUNDCLOUD

FRENSHIP make wide-angle pop songs that are realized in the moment, shaped by diverse inspirations: the brash, bold innocence of 80s pop; the experimental streak of 90s hip-hop; and, not to mention, the songwriting chops of stadium-filling superstars. Their songs are painted in bold, bright colors, packed with harmonies and unshakeable hooks that connect with a global audience. FRENSHIP's latest single "Wanted A Name" (feat. Yoke Lore), released via Counter Records (part of the Ninja Tune family), follows the explosive interest which has greeted the music they have released so far.

FRENSHIP - James Sunderland and Brett Hite - released their debut track "Kids" in 2013, and in 2015 released "Knives" featuring Norweigan producer, Matoma. They were three years into their musical journey together when their 2016 breakout hit "Capsize" with Emily Warren proved to be a game-changing moment that skyrocketed FRENSHIP to new heights. This success spurred a whirlwind of tour dates across the US and Europe, including festival plays at Lollapalooza, Outside Lands and Life Is Beautiful as well as a support slot for Bastille performing to crowds of thousands on stages either side of the Atlantic. Following "Capsize," FRENSHIP released a string of successful singles, including "1000 Nights" which they performed on Jimmy Kimmel Live.

Los Angeles - the city that the duo calls home - is a place they say provides them with daily inspiration -- and motivation. It's also a spur to achieve their goals: the urban sprawl around them can feel constricting and frustrating, amplifying the pressures of being an artist. Ultimately, though, it encourages them to work hard on making the best songs they can.

"It's a huge driving force," explains Sunderland, "We've both been through some of our highest and lowest moments in this city. For me, it's where I found love, it's where that ended and I found love again. It's where I joined a cult for a few years and completely lost sight of myself and my identity and it's where I healed from that. It's where I found my artistic voice and of course it's where we started FRENSHIP and developed as artists together. All of those experiences have of course influenced our music and show. LA is full of opportunity, but it's a place that can sometimes suck the life out of you and make you crave a break. We write about that break a lot and wanting to escape from LA and get back to simpler times in Colorado and Washington. That said, we wouldn't be who we are without this place."

It was LA that first brought Sunderland and Hite together. They first met when they were both working at an athletics store. They quickly discovered that they share upbringings where playing sports was a huge part of their lives. They balanced music practice with soccer training as they grew up, an activity that they say has taught them lessons in rebounding from setbacks. Sunderland started playing drums when he was eight years old, watching his shadow on the wall in the basement as he would drum for hours, and began singing in choirs. "I remember getting goosebumps when I was a part of big group of people singing together. That feeling influences how I want our music to sound and feel," he says. Hite became interested in music around the same age. Whenever a favorite song of his would play on his alarm clock he would turn it as loud as possible and press the whole radio up to his ear to consume as much of the sound as possible.

It's through this connection that they found a common language for writing songs together. Initially, Hite focused on lyrics and vocals, with Sunderland on production. Over time they've spread all aspects of the music-making between the two of them, which includes stacking up vocals and melodies tuned to resonate at our most sensitive frequencies. They draw influence from music recorded in the 80s, where a flood of new technology gave people lots of new toys to play with, making big and bombastic music that boldly threw new ideas into the mix.

Ultimately, FRENSHIP hopes that their music can be a welcoming place and travel with people throughout their lives.