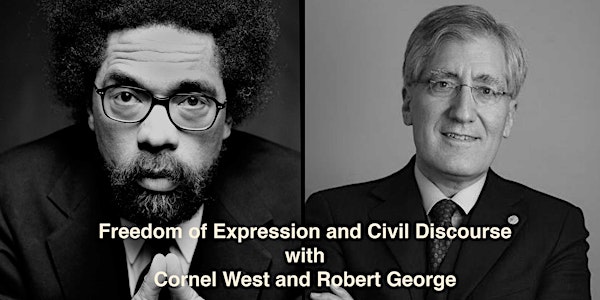 Freedom of Expression & Civil Discourse with Cornel West & Robert George
The Menard Center for Constitutional Studies is proud to present Cornel West and Robert George.
When and where
Location
UWEC Davies Student Center- Ojibwe Grand Ballroom 77 Roosevelt Avenue Eau Claire, WI 54701
About this event
Dr. Cornel West is the Dietrich Bonhoeffer Chair at Union Theological Seminary. Dr. West teaches on the works of Dietrich Bonhoeffer, as well as courses in Philosophy of Religion, African American Critical Thought, and a wide range of subjects -- including but by no means limited to, the classics, philosophy, politics, cultural theory, literature, and music. He has written 20 books and has edited 13. He is best known for his classics, Race Matters and Democracy Matters, and for his memoir, Brother West: Living and Loving Out Loud. His most recent book, Black Prophetic Fire, offers an unflinching look at nineteenth and twentieth-century African American leaders and their visionary legacies.
Robert P. George is McCormick Professor of Jurisprudence and Director of the James Madison Program in American Ideals and Institutions at Princeton University. He is also a Visiting Professor at Harvard Law School. He has served as Chairman of the U.S. Commission on International Religious Freedom and as a presidential appointee to the U.S. Commission on Civil Rights. He has also served on the President's Council on Bioethics and as the U.S. member of UNESCO's World Commission on the Ethics ofScience and Technology. He was a Judicial Fellow at the Supreme Court of the UnitedStates, where he received the Justice Tom C. Clark Award. A Phi Beta Kappa graduate of Swarthmore College, he holds the degrees of J.D. and M.T.S. from Harvard University and the degrees of D.Phil., B.C.L. and D.C.L. from Oxford University, in addition to nineteen honorary degrees. He is a recipient of the U.S. Presidential Citizens Medal and the Honorific Medal for the Defense of Human Rights of the Republic of Poland, and is a member of the Council on Foreign Relations. Baylor University has named its newWashington, D.C.-based program the "Robert P. George Initiative in Faith, Ethics, and Public Policy." Professor George's most recent book is Conscience and Its Enemies (ISIBooks).
All attendees are required to follow UW-Eau Claire Covid response measures. They can be found at https://www.uwec.edu/coronavirus-updates/
For more information on this Talent/Performer please visit www.GPSspeakers.com