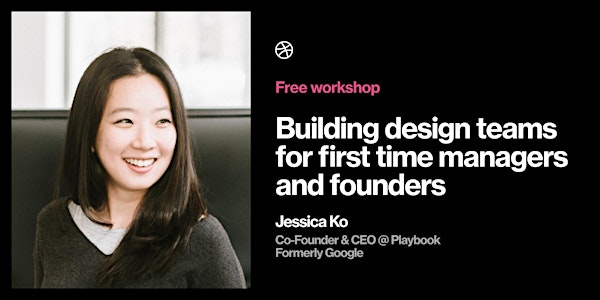 Free Workshop: Building Design Teams for First Time Managers and Founders
Design Hiring Managers! Learn how to find, get, and grow the best design talent from ex-Google, Playbook Co-founder and CEO - Jessica Ko.
About this event
FREE WORKSHOP: Wednesday August 31, 2022 [10:00 AM - 11:00 AM Pacific Time]
In this workshop, Jessica Ko will share her insights and experiences from a career of building design teams. This webinar is for anyone who is responsible for recruiting, hiring, and growing design teams but will be particularly insightful for first time design managers and founders. The topics covered in this webinar will include:
How to identify different types of designers
How to know who's right for your team / company
How to sell and close design candidates
Hiring mistakes I've made as a first time manager
About Jessica Ko
Jessica Ko is a co-founder and CEO of Playbook.com, a visual cloud storage startup in San Francisco. As part of Google's early design team in 2007, she was responsible for working on Google Drive, Hangout, and YouTube products and interviewing, reviewing, and hiring hundreds of designers. A former Googler, she was the first and Head Designer at Opendoor, overseeing a multi-billion dollar company's product and brand design.