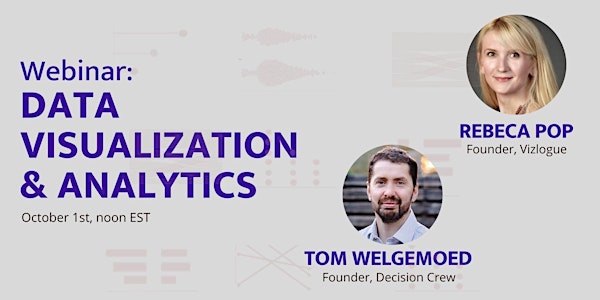 Free Webinar: Data Visualization & Analytics
30-minute free webinar on data visualization & analytics
About this event
Rebeca Pop (Founder of Vizlogue and Adjunct Professor at Northwestern University) and Tom Welgemoed (Founder of Decision Crew and ex-Accenture) will provide an introduction to Alteryx, Snowflake, and RAWGraphs.
WHO SHOULD ATTEND?
• Students looking to pursue a career that requires data analysis and visualization skills
• People working with and analyzing data who are interested to take their data storytelling or data analysis skills to the next level
• Anyone looking to learn more about new tools: Alteryx, Snowflake, RAWGraphs
YOU WILL GET AN OVERVIEW OF:
• Alteryx, a data management (ETL) tool
• Snowflake, a cloud database management tool
• RAWGraphs, a data visualization tool
ABOUT THE INSTRUCTORS
Tom is the founder of Decision Crew, a Dutch-based analytics consulting company that focuses on training, consulting & solution delivery, and ex-Accenture. Tom is an experienced data engineering and visualization trainer & consultant with more than 15 years of advising clients and consulting on data strategy, implementation, and architecture.
He has a passion for innovating with data, but also for keeping things simple and scalable. A further passion is some of the amazing tools that we teach in this course, i.e. Alteryx & Snowflake. When it comes to data coaching, his goals are to coach real-world implementation and practical skills that can be applied immediately once you complete the training.Outside of the above he is a father of 2 beautiful (and busy!) children (ages 4 and 7).
Rebeca is the founder of Vizlogue, a Data Visualization and Storytelling Lab that offers training and consulting services. Vizlogue's mission is to help companies and organizations communicate more effectively with data.
Rebeca has delivered workshops to over 2,500 participants all around the world. Her workshops are grounded in a deep understanding of adult learning strategies and combine hands-on exercises with feedback sessions and real-life examples. Rebeca is also an Adjunct Professor in data visualization and storytelling at the University of Chicago and at Northwestern University.
When she's not working on a data visualization project, she loves biking, hiking, and traveling. She currently lives in Chicago, IL.