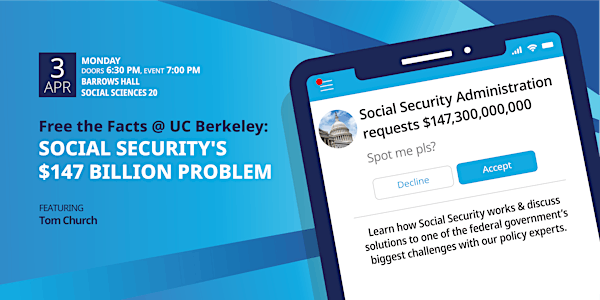 Free the Facts @ UC Berkeley: Social Security's $147 Billion Problem
Join us for a free dinner and an interactive presentation on Social Security by Free the Facts policy expert Tom Church!
Date and time
Monday, April 3 · 7 - 8pm PDT
Location
Social Sciences 20 Barrows Hall Berkeley, CA 94720
About this event
Are you interested in a free dinner, a Q&A with a public policy expert, and the chance to learn about Social Security's $147 billion crisis? Do we have the event for you!
Hosted by:
BridgeUSA
What is Free the Facts?
Free the Facts is a nonpartisan, non-profit organization that provides young Americans with reliable information about the economic and fiscal policies, programs, and challenges that will impact their lives. Our educational programs and leadership initiatives help students form their own opinions, create solutions, and meaningfully participate in the national debate about our country's biggest policy challenges.
What can you expect at this event?
A FREE dinner!
The opportunity to learn about Social Security reform from policy expert, Tom Church, then participate in a student-led discussion!
The chance to snag a sweet paid D.C. internship or a spot in one of our other leadership programs!
About the speaker:
Tom Church is a policy fellow at the Hoover Institution. He studies health care policy, entitlement reform, income inequality, poverty, and the federal budget. Church received his master's degree in public policy with honors from Pepperdine University and a bachelor's degree in mathematics and political science from the University of Michigan.
Where can you learn more?
For more information about Free the Facts, check out freefacts.org or follow us on Instagram @FreeFactsOrg.
Event Details:
This event will be held at Social Sciences 20 in Barrows Hall. Doors open at 6:30 PM.
About the organizer
Free the Facts is a non-profit organization that educates young Americans about the policies that directly impact their lives – and empowers them to create solutions and take action.