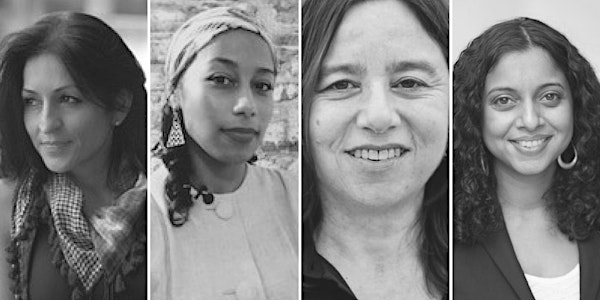 Free (Speech) Palestine: Writers Talk about BDS and Beyond
When and where
Location
Verso Books 20 Jay Street Suite 1010 Brooklyn, NY 11201
Description
**UPDATE** Registration is full. If you did not register, we do expect some space to open up due to no-shows. Please note that people on the waitlist (now closed) will be given priority entry in order of arrival at the venue.
You can also watch the LIVESTREAM of the panel through the Verso Books Facebook page: https://www.facebook.com/VersoBks/
Please note that while reservations ensure entrance, seating is limited. Please plan to arrive early to secure a seat. If you need a seat in order to be able to attend, please contact us at info@adalahny.org.
Doors open at 7, and the panel begins at 7:30.
**********************************************************
On September 18, join writers Susan Abulhawa and Sarah Schulman, poet Aja Monet, and legal expert Radhika Sainath as they discuss the repression of Palestinian cultural production as well as the increasingly harsh attempts here in the United States to silence criticism of Israeli government policies.
Free (Speech) Palestine continues the conversation about solidarity and the role of the artist that was sparked by the campaign calling on PEN America to reject Israeli government sponsorship for its World Voices Festival. The evening's conversation will address the conditions under which Palestinian artists labor, the Palestinian call for the cultural boycott of Israel, and efforts to criminalize BDS (boycott, divestment, and sanctions) in the United States.
Organized by Adalah-NY: Campaign for the Boycott of Israel and Jewish Voice for Peace: Arts & Culture.
Cosponsored by Haymarket Books, Just World Books, OR Books, Palestine Festival of Literature, and Verso Books.
This event is free and open to the public. Please note that while reservations ensure entrance, seating is limited. Please plan to arrive early to secure a seat. If you need a seat in order to be able to attend, please contact us at info@adalahny.org.
Verso Books is located at 20 Jay Street in DUMBO, Brooklyn, and is wheelchair accessible.
Doors open at 7:00 p.m. Event begins at 7:30 p.m.
About the participants
Susan Abulhawa is a novelist, political commentator, and social justice activist. She was born to refugees of the 1967 War, in which Israel captured what remained of Palestine. Her debut novel Mornings in Jenin (Bloomsbury, 2010) was an international bestseller, translated into 26 languages. The Blue between Sky and Water (Bloomsbury, 2015) is her second novel, already sold to more than 19 international publishers around the world. Susan is also the founder of Playgrounds for Palestine, an organization that builds and maintains playgrounds for children in Palestine.
Aja Monet is an internationally established poet, performer, and educator. The youngest individual to win the legendary Nuyorican Poet's Café Grand Slam title, she has collaborated with poet/musician Saul Williams on Chorus: A Literary Mixtape and was featured in Carrie Mae Weems' show "Grace Notes: Reflections for now." Her first book, my mother was a freedom fighter, was recently published by Haymarket Books. In 2015, she traveled to Palestine on a solidarity trip with the Dream Defenders where US activists from across the nation met with Palestinian activists and artists to share, create, and learn. Co-founder of Smoke Signals Studio, Aja Monet currently lives in Little Haiti, Miami and dedicates her time merging arts & culture in community organizing with the Dream Defenders and Community Justice Project.
Radhika Sainath is a staff attorney at Palestine Legal, where she defends the civil and constitutional rights of students, professors, artists and grassroots activists advocating for Palestinian freedom. Together with the Center for Constitutional Rights, she brought a landmark lawsuit against Fordham University after it refused to grant club status to Students for Justice in Palestine. She is a co-editor of Peace Under Fire: Israel/Palestine and the International Solidarity Movement, and is the author of a soon-to-be published novel set in the West Bank during the second intifada.
Sarah Schulman is a novelist, playwright, screenwriter, nonfiction writer, and AIDS historian. Her 18 books include Israel/Palestine and The Queer International (Duke), Conflict Is Not Abuse (Arsenal), and the novel The Cosmopolitans (Feminist Press). Sarah is on the advisory board of Jewish Voice for Peace and is faculty advisor to Students for Justice in Palestine at The City University of New York, College of Staten Island, where she is a Distinguished Professor.