Location
POST Houston
401 Franklin Street
Houston, TX 77201
Inspire Film Festival presents a FREE screening of Los Hermanos/The Brothers, with LIVE performance with Aldo and Ilmar Lopez-Gavilan
About this event
The Film
Ilmar and Aldo López-Gavilán are virtuoso Afro-Cuban musician brothers, born in Havana in the 70s. At 14, Ilmar outgrew his island teachers and was sent to the U.S.S.R. to study violin, ultimately landing as a working chamber violinist in the U.S. Younger brother Aldo grew up mentored by Cuba's impressive jazz and classical pianists, his extraordinary talent achieving renown on the island, but stymied elsewhere by the 60-year-old U.S. embargo. Though they see each other when family finances and visa restrictions allow, they've never had a chance to collaborate musically—something they've longed for all their lives.
Tracking their parallel lives, poignant reunion, and momentous first performances together on stages across the U.S., "Los Hermanos / The Brothers" is a nuanced, intensely moving view of nations long estranged, through the lens of music and family.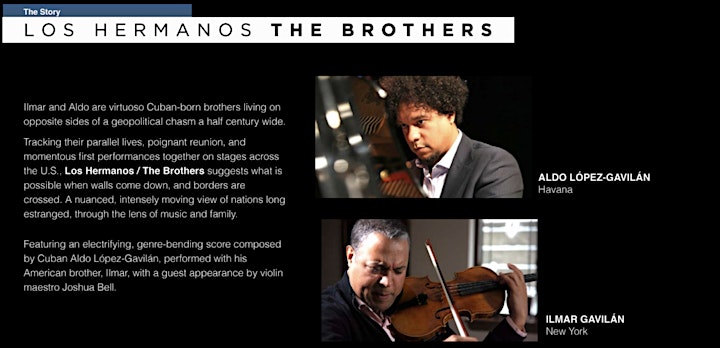 The Inspire Film Festival (IFF) is a 501c3 arts organization dedicated to entertaining and inspiring audiences with "good films about good people doing good things." These documentaries celebrate the human spirit and are paired with intimate talks with the filmmakers and film subjects, as well as interactive festival experiences to personally connect the films to the lives of the festival goers. This sparks conversations and creates a ripple effect, inspiring positive connection with our local community and global organizations whose causes are underscored in the films.