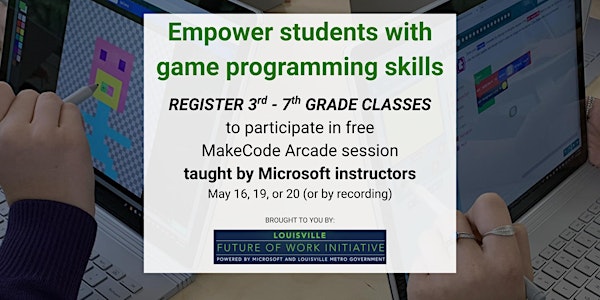 FREE: MakeCode Arcade virtual program for 3rd - 7th Grade Classrooms
Sales Have Ended
Registrations are closed
Registration for this program has ended. If you are interested in other programs for your students, please visit https://www.futurelou.com/
Sales Have Ended
Registrations are closed
Registration for this program has ended. If you are interested in other programs for your students, please visit https://www.futurelou.com/
Free, MakeCode Arcade sessions with Microsoft live-steamed to your 3rd - 7th grade classrooms
About this event
The Louisville Future of Work Initiative powered by Microsoft and Metro Louisville Government is excited to bring you this amazing, free opportunity for JCPS 3rd - 7th grade classrooms starting on May 16.
MakeCode Arcade is a virtual program for 3rd to 7th grade classrooms. In this workshop, students (who we will call game developers) will use block coding to create games with MakeCode Arcade. Students will learn about the game design concept of sprites and the computer science concepts of coordinates and variables.
Students will complete two coding tutorials, Eat the Doughnut and Cherry Pickr, to build games introducing them to the fundamentals of MakeCode Arcade. Time permitting, they will also have an opportunity to modify the design and code of the games to create their own versions.
At the end of each session, students will find inspiration through playing each other's games. By publishing and recording links for the games they create, they will be able to continue playing or working on them after the workshop.
LIVE SESSION OPTIONS
Teachers can register their class(es) to participate in one of Microsoft Live events during which the teacher can type questions in the chat for Microsoft instructors to answer. The 2-hour long classes will be repeated in a live format from 9 a.m. to 11 a.m. on May 16th, 19th, and 20th.
RECORDED SESSIONS
As an alternative to participating in the Live events, teachers may choose to leverage recordings of the Monday, May 16 class, which they can then replay for their classes at any time in their entirety or in portions. To select a recorded session: select any date, then select the recorded session ticket.
TECHNICAL REQUIREMENTS
Classrooms should have internet access and a display screen with sound capabilities.
MakeCode website browser requirements- Supported Browsers (makecode.com)
Students should each have a device with internet access.
TEACHER REQUIREMENTS
Set up the live stream
Make sure all the kids are online
Capture any questions from students and share them in the chat in Microsoft Live.
Provide aly@futurelou.com with a final count of the number of students who participate.
The Louisville Future of Work Initiative is a partnership between Microsoft and Louisville Metro Government focused on increasing economic opportunity and equity by enabling Louisville to become a regional hub and center for excellence in Artificial Intelligence, the Internet of Things, and Data Science.