About this Event
"Get the most out of Salesforce's Nonprofit Cloud platform to power your mission"
MadWolf Technologies is pleased to invite you and your colleagues to our FREE Lunch & Learn session: "Get the most out of Salesforce's Nonprofit Cloud to power your mission"
Join us for our upcoming Lunch & Learn on November 14th, 2019 to learn why more than 30,000 nonprofits utilize Salesforce's Nonprofit Cloud daily to achieve their goals and have a bigger impact. Using the Nonprofit Success Pack, Salesforce Nonprofit Cloud can organize your team's efforts by managing relationships, fundraising, programs, reporting and more.
Hear about how Salesforce can provide value to nonprofits of all sizes from MadWolf's Salesforce Certified Administrator, Bizin Nabi. Learn about how MadWolf can configure and deploy your Salesforce environment to its fullest capabilities while keeping costs low for your organization.
Learn more about the following:
Getting started with Salesforce's Nonprofit Success Pack (including free licenses for your nonprofit!)
Becoming a data-driven organization by Using the Salesforce Nonprofit Cloud
Creating a Salesforce user experience that caters to your team's strengths
Connecting with Salesforce.org's nonprofit community
Utilizing real-time reporting and analytics to know where to focus your efforts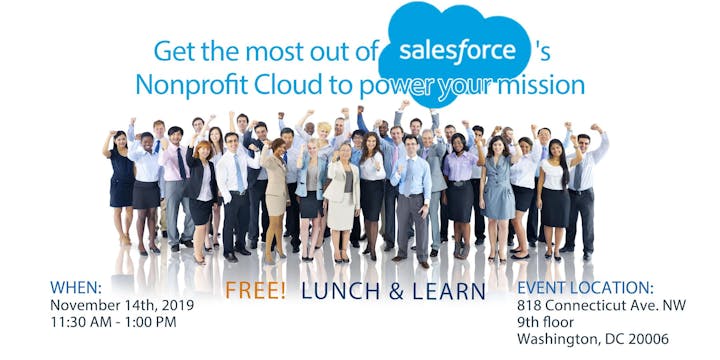 This is an event that you do not want to miss!
Register today!
Please join us on:
Thursday, November 14th, 2019
11:30 AM - 1:00 PM
818 Connecticut Ave NW 9th floor
Washington, DC 20006
202-293-5003 X4