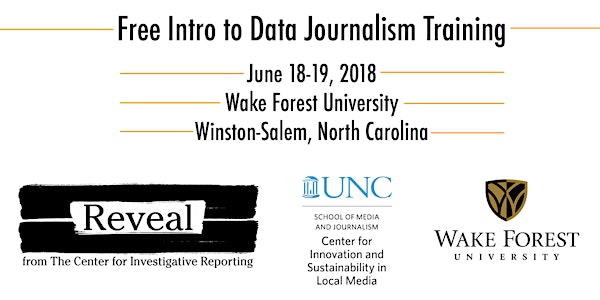 Free Intro to Data Journalism with the Center for Investigative Reporting
When and where
Location
Wake Forest University - Wake Downtown 455 Vine Street Winston-Salem, NC 27101
Description
Reveal/The Center for Investigative Reporting will be coming to North Carolina June 18-19 to train journalists and students in the art of data reporting.

Emmanuel Martinez, data reporter for Reveal/CIR, will lead the training. Martinez is the lead data journalist in Reveal's ongoing coverage of modern-day redlining, which includes complex statistical analyses touching nearly every mortgage application in the country. Martinez will work with journalists on data skills over two days at Wake Forest University at Winston-Salem. Whether you are a beginner or seasoned at using data in your reporting, Martinez will help you deepen your skill. Martinez will use North Carolina data to teach attendees some of the techniques Reveal's team used to seek out racial discrimination in mortgage lending.
Journalists may attend either Monday only or both Monday and Tuesday. Those only able to attend on Monday will learn basic Microsoft Excel skills and become familiar with how to use data in reporting. On Tuesday, Martinez will work with reporters on how they might use Reveal's data to report on housing issues in their communities.
The hours of the workshop will be 10 a.m. to 5 p.m. on Monday, June 18, and 9 a.m to 4 p.m. on Tuesday, June 19. It will be on the campus of Wake Forest University in Winston-Salem, NC. Exact location details to come later.
This training is brought to you by Reveal, UNC Center for Innovation & Sustainability in Local Media and Wake Forest University.
The event is free to any journalist or student in North Carolina, but space is limited. Lunch and snacks will be provided. RSVP deadline is May 31.
Questions about the event can be directed to UNC professor Ryan Thornburg (ryan.thornburg@unc.edu) or investigative journalist Mandy Locke (mandylocke@gmail.com).