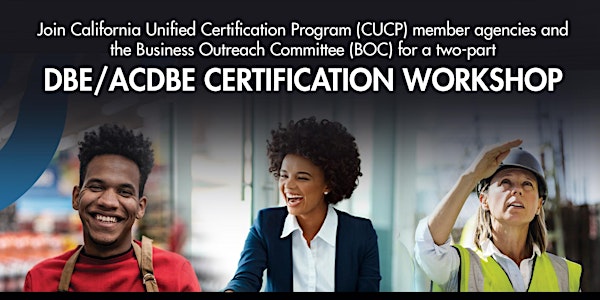 FREE DBE/ACDBE Certification Workshop Part One: "Getting Started"
Grow your business and become DBE/ACDBE Certified - we will show you how! This is a FREE two part series.
By Business Outreach Committee (BOC)
Date and time
Thursday, June 22 · 10am - 12pm PDT
Agenda
10:00 AM - 10:30 AM
Overview of DBE Program & Benefits
---
FAA and FHWA representatives will give an overview of the DBE program, benefits of DBE/ACDBE certification, and highlight important areas of the certification process.
10:30 AM - 11:00 AM
B2Gnow Online Application Demo
---
B2Gnow is the software provider for the California Unified Certification Program (CUCP) DBE/ACDBE online certification application. Staff will demo the online application step-by-step for instruction...

11:00 AM - 11:10 AM
Break
11:10 AM - 11:40 AM
Identifying NAICS Codes
---
Certifiers will educate applicants on how to properly identify applicable North American Industry Classification System (NAICS) codes and will uncover the most common errors/pitfalls when reviewing a...

11:40 AM - 12:00 PM
Questions & Answers
About this event
THIS EVENT IS A TWO-PART SERIES
This FREE DBE/ACDBE Certification Workshop Series is to educate small, minority, and women-owned businesses how to expand their business by becoming DBE and/or ACDBE certified and offer hands-on technical assistance with the DBE/ACDBE certification application. Future DBE firms are encouraged to attend!
PART ONE: GETTING STARTED - VIRTUAL EVENT
Hear from the Federal Aviation Administration (FAA) and Federal Highway Administration (FHWA) give an overview of the DBE/ACDBE program and the benefits of becoming certified.
Expedite your application submittal by avoiding common errors as you upload the required documentation. The California Unified Certification Program (CUCP) online certification portal is powered by B2GNow software. B2GNow staff will demonstrate the online application process step-by-step to ensure a successful application submittal.
Are you unsure what North American Industry Classification System (NAICS) codes are applicable to your business? Certifying agency members of the CUCP will address how to properly identify NAICS codes, explain the process of how NAICS codes are assigned and answer questions.
Join Zoom Meeting
https://goldengate-org.zoom.us/j/83457473526?pwd=MUM1dGdKU1JWVXkrWDVVL09jajlXUT09
Meeting ID: 834 5747 3526
Passcode: BOC23
PART TWO: IN-PERSON WORKSHOPS
On June 29, follow-up with in-person workshops for technical assistance at three locations. Network with public agencies and resource partners and learn about upcoming contracting opportunities.
Northern California
Oakland International Airport
Southern California
Los Angeles County Transportation Authority (LA Metro) LIMITED SEATING to first 50
San Diego International Airport
Disclaimer: By registering for this event, you agree to have your contact information shared with agency staff and other registered businesses that attend this event. In addition, you consent to the BOC's Notice of Photography.
About the organizer
The Business Outreach Committee (BOC), a consortium of Bay Area transit and transportation agencies whose goal is to assist small and disadvantaged companies in doing business with Bay Area Transportation Agencies.