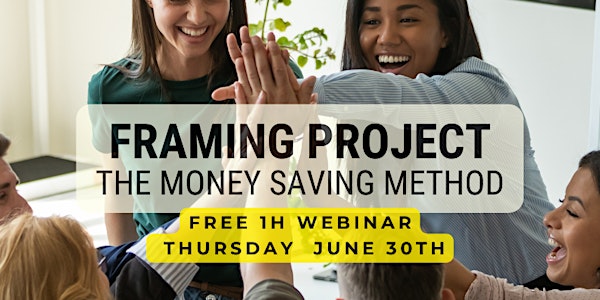 Framing Projects - the Money Saving Method
Free introduction to Opportunity Framing used for complex project planning, where the solution is not obvious, and stakeholders misaligned.
About this event
WHO FOR: Project Manager, Team Leads, Decision Makers and Facilitators involved in early project planning and stage-gated process.
"No matter how good the team or how efficient the methodology, if we're not solving the right problem, the project fails." – Woody William
IMAGINE:
having clarity and alignment between your team and decision makers upon what you are trying to achieve right from the start:
making decisions based on facts and verified information
the team feeling empowered and engaged and everyone knows what to do
executing ideas and projects in alignment with what you truly want to do
You are invited to learn about a new approach to Project Management.
Join Iwona for a 1h Webinar in June the 30th at 9am CDT.
WHY?
`Opportunity Framing will help you to define how to complete the plan within a certain timeframe, with defined stages and using specific resources and approaches.
HAVING THE RIGHT TYPES OF PROJECTS PROGRESSING THROUGH YOUR GATES CAN EITHER MAKE OR BREAK THE COMPANY.
I'll show you the key steps in my process that I use to build or re-build your project plans and bring your team together so that you can start or re-start and achieve success no matter what roadblocks are stopping you now.
Join me for 1h webinar to learn from my last15+ years of experiences helping companies like your frame opportunities, even in the face of unpredictable circumstances.
3 SECRETS you're going to learn:
#1 How the top 5% highly successful companies frame their projects leaving everyone else behind
#2: Find out what is opportunity framing
#3 Learn when is the right time to conduct opportunity framing
It'll be EPIC.