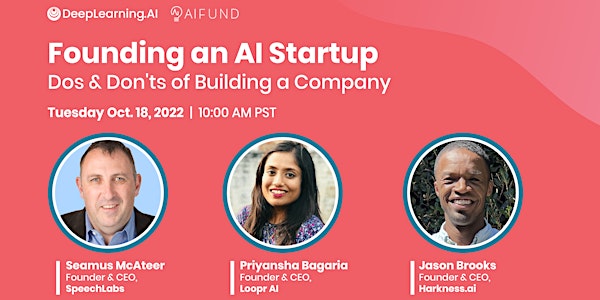 Founding an AI Startup: Dos & Don'ts of Building a Company
A live event providing insights from AI founders on how to create your own AI company.
About this event
Join us for a live, interactive panel discussion on Founding an AI Startup: Dos & Don'ts of Building a Company.
Whether you're looking to found your first company or advance your current start-up this event is for you! You'll learn tactical insights and hear stories from seasoned founders about building their own companies. Leave with concrete ways to start and grow your company and steps to becoming a founder.
Speakers will cover:
Practical steps on how to get started creating your company.
Key ways AI companies differ from traditional software companies.
Common pitfalls early-stage founders face and ways to overcome these obstacles.
This event is designed for anyone looking to start and/or develop an AI company. Those with non-technical backgrounds are welcome to attend. Special thanks to AI Fund for co-hosting the event with us!
Event agenda: *Subject to change
- Seamus McAteer, Founder and CEO, SpeechLab
- Priyansha Bagaria, Founder and CEO, Loopr AI
- Jason Brooks, Founder and CEO, Harkness.AI
15 min Q&A: taking live questions from attendees via Slido.
This event is hosted by Katherine Baird, Associate Builder at AI Fund.
How to attend the event:
When you register, you will receive a Livestream link via email three days before the event.
Can't attend the live YouTube event? Don't worry. Register now to get the recorded session after the live event.
About the speakers:
Seamus McAteer, is an experienced entrepreneur and operator. with multiple successful exits. As co-founder and CEO of SpeechLab, he is leading an exceptional team of technologists to build a category-defining platform for speech-to-speech translation. Seamus built and led the commercial team at Otter.ai from pre-product to successful commercial momentum. He previously founded and successfully sold three companies in data analytics and ad technology. He has served on multiple boards and is currently an independent director with brand measurement platform company On Device Research. He serves on the Board of Governors at Ohlhoff Recovery Programs a leading independent provider of treatment for addiction.
Priyansha Bagaria, Priyansha is a fourth-generation entrepreneur from a family business of manufacturing and is driven to make technology accessible to manufacturers of all sizes through Loopr. She has worked on a global scale in the fields of manufacturing, data science, enterprise cloud, and business management, which gives her a unique amalgamation of technical expertise in machine learning and complex cloud solutions along with hands-on experience of B2B sales. She holds a bachelor's degree in Computer Science, master's degree in Business Management and a Data Science fellowship. Hailing from a small city in India, Priyansha is passionate about women empowerment and strives to provide more work opportunities to women from disadvantaged backgrounds.
Jason Brooks, is from South Central Los Angeles. After 18 years of teaching Mandarin & Spanish & Mathematics in education, during COVID-19, he tracked student interaction by hand and quickly saw the potential for artificial intelligence to fuel better meeting performance. In October 2021, he founded harkness.ai - an early-stage startup whose vision is to empower everyone - on every team - to meaningfully contribute their voice at work, in school, or any other group — free from friction, fear or bias.
About AI Fund: AI Fund is a venture studio that strives to move humanity forward by accelerating the adoption of AI. We work with entrepreneurs to build companies rapidly and increase the odds of success. We are a team of AI pioneers, operators, entrepreneurs, and investors, supported by top-tier partners including NEA, Sequoia, and Greylock.