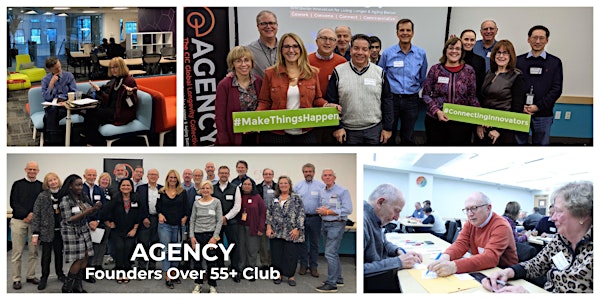 Founders Over 55+: How to Leverage Your Own Strengths as an Entrepreneur
Explore your strengths in the domains of Executing, Strategic Thinking, Influencing, and Relationship Building to succeed as an Entrepreneur
About this event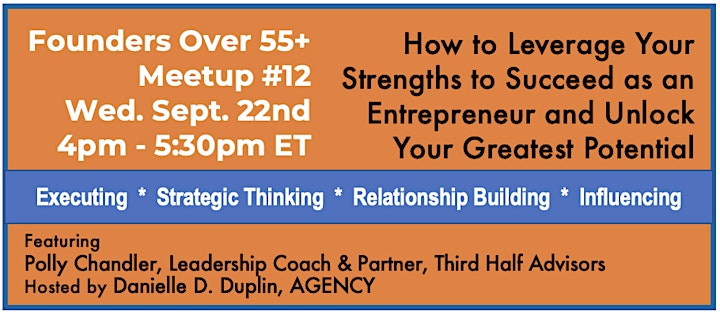 Hello, Founders Over 55! and everyone else who is considering becoming an entrepreneur as their next career path ~
If you're wondering how your personal strengths can help you succeed as an entrepreneur and unlock your greatest potential, we're here to help!
We're excited to share a framework for examining the domains of Executing, Strategic Thinking, Influencing, and Relationship Building that are critical for launching and growing your business.
You'll be guided by an expert in the Clifton Strengths Methodology with Third Half Advisors to explore how the talents you honed throughout your life, along with an honest look at the activities that bring you joy (and the ones you no longer want to do), can give you deep insight on your leadership style and what to look for in potential collaborators who have complementary strengths.
You'll also hear stories from fellow F55+ entrepreneurs on how they continuously apply their own strengths to refine their paths and overcome obstacles.
Join us on Wednesday, September 22nd, 4 pm – 5:30 pm ET to learn more! We're thrilled to bring you this program during National Employ Older Workers Week 2021 as part of our mission to reframe aging and provide a positive counter-narrative to ageism.
Speakers
Polly Chandler's mission is to help clients leverage their strengths, knowledge, and skills to accelerate their performance, clarify their core purpose, and meet their professional goals. As a Gallup-Certified coach and trainer, she specializes in leadership development, strengths-based team development, and navigating successful career transitions. Polly is a partner at Third Half Advisors, a company that offers a strengths-based curriculum designed to help individuals continue to live a purpose-driven life in their Third Half.
Moderated by Danielle D. Duplin, cofounder, AGENCY: Worldwide Innovation for Living Longer and Aging Better; and producer, ecosystem builder, and coach.
Don't miss this session!
Expect a lively discussion, with plenty of time for your questions and breakouts so you can get to know fellow Founders Over 55 community members and meet potential collaborators for your company ~ All ages, stages, sectors, and backgrounds are welcomed . . .
We look forward to zooming with you,
The F55+ Steering Committee:
Danielle D. Duplin, Jerry Wolosenko, Mary Cronin, Doug Dickson, Paul D. Michaels, Ramesh Advani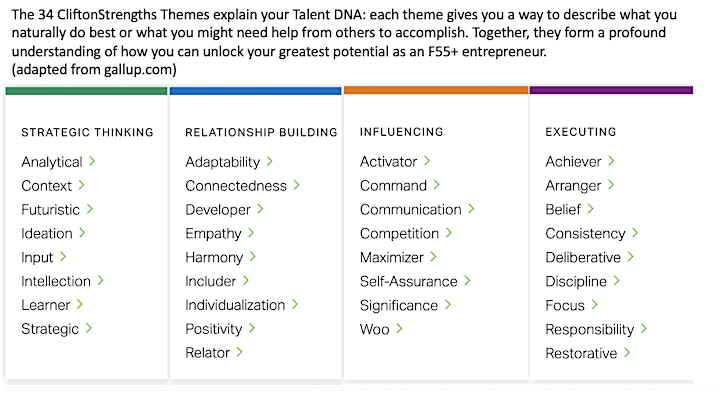 About the Founders Over 55+ Club
The Founders Over 55+ Club is a collegial community of company founders in their encore careers. We start and build thriving businesses where our age and lifelong experiences are an asset. We share best practices for success, celebrate each other's professional and personal journeys, and champion an age-friendly business ecosystem. F55+ is an inclusive member-led club that welcomes entrepreneurs of ALL ages, stages, and backgrounds.
Join the F55+ Club to share ideas, raise issues, and connect with peers who are puzzling over key questions like:
What motivates founders over 55? . . . is it all about the money? the life-purpose? the intellectual, creative and social engagement? mutual learning with the next generation(s)?
What drives the success of our ventures? . . . is it lifelong experience and wisdom? renewed curiosity? blending the old with the new?
What resources are most valuable/needed? . . . access to capital, markets, and partners? alternative sources of funding for encore founders who don't "fit" the typical VC profile? tips for engaging multi-generational teams?
What are the practical challenges and best-practices? . . . balancing a healthy lifestyle with the rigorous demands of running a successful business in today's hyper-competitive climate? balancing accumulated wealth with the risk of starting something new? getting visibility in the ecosystem? strategies to combat ageism bias ??
The F55+ Club is an initiative of AGENCY: Worldwide Innovation for Living Longer and Aging Better. AGENCY is equal parts coworking at CIC, programming, and an international community of innovators to make the aging journey better for all. Send us a note at helloagency@cic.com to get involved!
With Gratitude to our Program Partners