Founder's Night Edition 6 - How to build the future of workspace?
About this event
See English below
𝐒𝐮̛̣ 𝐭𝐫𝐨̛̉ 𝐥𝐚̣𝐢 𝐜𝐮̉𝐚 𝐅𝐨𝐮𝐧𝐝𝐞𝐫'𝐬 𝐍𝐢𝐠𝐡𝐭 𝐄𝐝𝐢𝐭𝐢𝐨𝐧 𝟔
Chuỗi sự kiện Founder's Night do WisePass và Singleton phối hợp tổ chức sẽ chính thức quay trở lại vào đầu tháng 5. Với sự góp mặt của Linh Hoàng đồng sáng lập và Tổng Giám Đốc của cirCO.
𝐕𝐞̂̀ 𝐌𝐫. 𝐋𝐢𝐧𝐡 𝐇𝐨𝐚𝐧𝐠 𝐯𝐚̀ 𝐜𝐢𝐫𝐂𝐎
𝐋𝐢𝐧𝐡 𝐇𝐨𝐚𝐧𝐠:
Linh là đồng sáng lập và Tổng Giám Đốc của cirCO. Linh thuộc thế hệ doanh nhân trẻ với nhiều quan tâm đến các vấn đề của xã hội và các giải pháp mang tính sáng tạo. Linh cũng rất quan tâm đến việc hỗ trợ cộng đồng doanh nghiệp, các ý tưởng kinh doanh mới và các bạn trẻ có thể khởi nghiệp được. Trước khi thành lập cirCO, Linh có nhiều năm kinh nghiệm trong mảng phát triển kinh doanh, dự án trong lĩnh vực thiết kế xây dựng. Ngoài ra, Linh còn là nhà đồng sáng lập của Mạng Lưới Khởi Nghiệp Trẻ Việt Nam, tổ chức phi lợi nhuận giúp các bạn trẻ có thể học về khởi nghiệp và kết nối họ với các doanh nhân khởi nghiệp thành công.
𝐜𝐢𝐫𝐂𝗢:
cirCO cung cấp không gian làm việc chia sẻ, văn phòng riêng, chỗ ngồi linh hoạt, văn phòng ảo, không gian hội họp và sự kiện. cirCO mang đến sự linh hoạt, năng động, không gian mở, cơ hội tương tác cao, tiện ích đa năng vượt trội giúp tiết kiệm chi phí cho khách hàng khi sử dụng các không gian làm việc của cirCO. Định hướng cirCO tập trung vào trải nghiệm khách hàng, bằng chất lượng dịch vụ tốt, những tiện ích và các hoạt động nhằm kết nối phát triển cộng đồng, tạo một nền tảng liên kết, mang đến những giá trị thiết thực cho cộng đồng các doanh nghiệp, startups, và freelancers.
𝐕𝐞̂̀ 𝐓𝐡𝐞 𝐒𝐢𝐧𝐠𝐥𝐞𝐭𝐨𝐧 𝐰𝐡𝐢𝐬𝐤𝐲
Sự kiện được tài trợ bởi The Singleton - Thương hiệu Whisky mạch nha đơn cất số 1 châu Á. The Singleton tạo ra một không gian để kết nối mọi người, để chia sẻ những câu chuyện truyền cảm hứng từ những nhà sáng lập, để cùng nhau tận hưởng một buổi tối Cân Bằng Hoàn Hảo cùng bạn bè, rượu ngon và những câu chuyện hay.
Cuối cùng là phần Mini Game bốc thăm trúng thưởng những phần quà hấp dẫn từ Singleton.
𝘾𝙖́𝙘𝙝 𝙩𝙝𝙪̛́𝙘 𝙩𝙝𝙖𝙢 𝙙𝙪̛̣:
Việc đăng ký sẽ giúp bạn được ưu tiên đăng ký vì chỗ ngồi sẽ được giới hạn ở 30. Bạn cần phải là thành viên WisePass để truy cập sự kiện. Sự kiện này không miễn phí.
𝗧𝗵𝗼̂𝗻𝗴 𝘁𝗶𝗻 𝘀𝘂̛̣ 𝗸𝗶𝗲̣̂𝗻:
𝐓𝐡𝐨̛̀𝐢 𝐠𝐢𝐚𝐧: 07:00pm - 10:00pm, 13 /05/2021
Đ𝐢̣𝐚 đ𝐢𝐞̂̉𝐦: cirCO (41-47 Đông Du, Bến Nghé, Quận 1, Thành phố Hồ Chí Minh)
#Wisepass #FoundersNight #TheSingleton #SingletonVN #No1SingleMaltInAsia
------------------------------------
Thưởng thức có trách nhiệm, 18+
Không chia sẻ nội dung này cho người dưới 18 tuổi
---------------
𝐅𝐨𝐮𝐧𝐝𝐞𝐫'𝐬 𝐍𝐢𝐠𝐡𝐭 𝐄𝐝𝐢𝐭𝐢𝐨𝐧 𝟔
The WisePass Originals Series Event Founder's Night is now jointly organized by Wisepass and The Singleton. It will return as usual on the second Thursday of the month on May 13th 2021 starting from 7:00pm at cirCO, the guest speaker will be Linh Hoang.
𝐀𝐁𝐎𝐔𝐓 𝐂𝐎-𝐅𝐎𝐔𝐍𝐃𝐄𝐑 & 𝐂𝐄𝐎
𝐀𝐛𝐨𝐮𝐭 𝐋𝐢𝐧𝐡 𝐇𝐨𝐚𝐧𝐠
Linh is co-founder & CEO of cirCO. Linh is among the new generation of young founders, with a lot of interests on social issues and innovative solutions. Linh is also interested in supporting enterprise's community, new business ideas and young founders. Prior to cirCO, Linh has extensive experience in business and project development in architecture design & construction. Besides, Linh was a cofounder of Viet Youth Entrepreneurs, a non profit organization with a mission of supporting young millennials in startup workshops and connecting them with veteran entrepreneurs' community.
𝐀𝐛𝐨𝐮𝐭 𝐜𝐢𝐫𝐂𝐎
cirCO provides the shared spaces, private offices, flexible desk, virtual offices and meeting, event space for rent. cirCO would like to bring the flexible open working space with a high opportunity for interacting and all the outstanding multifunctional utility for helping to save costs for our customers when using the working space of cirCO. With a mission to focus on customer experiences by serving the services and utilities at the high quality, activities to connect business by creating linked platforms and bring practical values to the community of business, startups, and freelancers.
𝐀𝐛𝐨𝐮𝐭 𝐓𝐡𝐞 𝐒𝐢𝐧𝐠𝐥𝐞𝐭𝐨𝐧 𝐰𝐡𝐢𝐬𝐤𝐞𝐲
The event is sponsored by The Singleton - Asia's No.1 single malt whiskey brand. The Singleton aims at creating a platform to connect everyone and share inspirational stories from founders and enjoy some great conversations with a good sip
Finally, join the Mini Game "Lucky Draw" to see whether you can win a lot of attractive gifts!
𝐇𝐨𝐰 𝐭𝐨 𝐚𝐭𝐭𝐞𝐧𝐝?
The registration will give you priority check-in as seating will be limited to 30. You need to be a WisePass member to access the event. The event is not free.
𝐓𝐡𝐞 𝐈𝐧𝐟𝐨𝐫𝐦𝐚𝐭𝐢𝐨𝐧 𝐄𝐯𝐞𝐧𝐭𝐬:
𝐓𝐢𝐦𝐞: 19:00 – 22:00, May 13th, 2021
𝐋𝐨𝐜𝐚𝐭𝐢𝐨𝐧: cirCO 41-47 Dong Du street, District 1, Ben Nghe, Ho Chi Minh
#Wisepass #FoundersNight #TheSingleton #SingletonVN #No1SingleMaltInAsia
——————————————
Enjoy Responsible, 18+
Do not share this content with anyone under the age of 18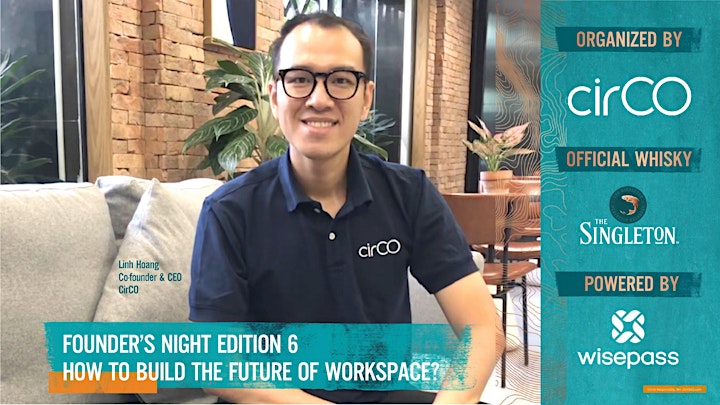 Organizer of Founder's Night Edition 6 - How to build the future of workspace?
Available on both iOS and Android, WisePass is a lifestyle app that allows its subscribers to enjoy free perks from brands everyday starting from 8$ a month.
The company started in October 31st 2014 with its founder Lam Tran aiming at building a marketing platform to connect consumers with brands in the real world. Most of the startups are focused on building a website or an app where you would just make an order and get something delivered to you. 
What WisePass does is to let its subscribers know where the cool places are and get an additional perk to it. It started simply with a list of bars and restaurants where you would be able to get a complimentary bottle when you come to the bar in Ho Chi Minh City in 2016.
If you want to know more you can come and visit our website or our blog on Medium