Event Information
Refund Policy
Refunds up to 7 days before event
Eventbrite's fee is nonrefundable.
About this Event
A data science role within a consulting firm tends to involve heavy client-facing interaction. This makes it necessary for data scientists to be able to communicate with stakeholders and deliver best-in-class solutions for clients.
Conducted by a former McKinsey data scientist, this three-part workshop series is geared towards providing strong, foundational knowledge in data science for management consulting.
About the Workshops
Workshop I: Introduction to Data Science for Strategic Management Consulting
What is management consulting, and what does it entail really from a data science perspective? Most people consider management consulting to be a non-quantitative industry with an emphasis on business acumen and getting an MBA. Many management consulting firms are heavily investing in building out digital and technical solutions to help clients reap the benefits of data and automation.
In this workshop, former McKinsey data scientist Joseph Lee we will cover what to realistically expect in a data science career at a top management consulting firm. Moreover, this workshop will also focus on the foundational technical, business, financial, and communication skills needed from any client-facing data scientist.
Workshop II: Advanced Solutions Development for Strategic Management Consulting
What machine learning techniques should I consider for a client? How should data be processed to avoid time leakage from a non-forecasting perspective? How confident can we be in our results, and how can we present this to stakeholders? A common pitfall of many new client-facing data scientists is presenting results and visualizations without a clear business direction. When serving clients, data scientists must be held accountable for minimizing overfitting, information leakage, and not presenting spurious findings with little confidence.
In this workshop, former McKinsey data scientist Joseph Lee will cover more advanced machine learning and statistical considerations when developing solutions for clients.
Workshop III: Cracking the Strategic Management Consulting Interview for Data Scientists
What can I expect from a data science interview for a management consulting firm? How can I best prepare for consulting interviews? What can I expect from my first phone interview at a big three firm?
In this workshop, former McKinsey data scientist Joseph Lee will review the general interview process most data scientists can expect from an entry-mid level perspective. We will also go through four mock case studies and actively apply concepts covered in the previous workshops.
About the Instructor
Joseph Lee is an ex-McKinsey data scientist with 4+ years of applied machine learning and client-facing experience. Currently, he is a senior data science specialist at Revantage, a Blackstone Company where he works closely with Blackstone in developing data science solutions for all of Blackstone's portfolio real estate portfolio companies. Before Revantage, he was a developer-oriented data scientist at a unicorn IoT startup, Uptake, and at McKinsey & Company as a client-facing data scientist.
During his time at McKinsey & Company, he developed and deployed successful machine learning solutions for Fortune 500 companies. Joseph holds a bachelor's degree in biomedical engineering from Northwestern University and a Master's in Information and Data Science from UC Berkeley.
Preparation
These workshops will be conducted completely online using Zoom. You will need access to a laptop or computer that has a strong internet connection.
Registered students will be notified in advance with information on how to access the Zoom meeting room and prepare any other tools and materials needed for the sessions.
Refund policy
If you can no longer make it to any of the workshops, please contact us at least seven days before the scheduled workshop date. No refunds will be given to cancellations made within a week of the workshop date.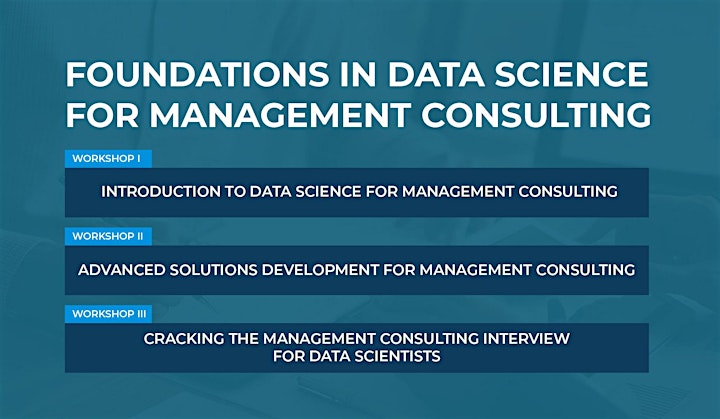 Location
Refund Policy
Refunds up to 7 days before event
Eventbrite's fee is nonrefundable.