Foster Youth Museum's Spirituality Open Mic
Description
Join Foster Youth Museum while we break bread, talk about our stories and share personal truths or thoughts about religion. In defining "religion" here we are looking at the relationship between spirituality, foster care and connection -- this is an opportunity to ground yourself in whatever matters to you on the topic of spirituality with a community ready to listen.
This is an open mic event led by Tramisha Poindexter, Ipolani Ma'e, Angel Lee Woolsey, Dominque Ross, Braid Mission, Father Dan of St John's and others. All perspectives, religions, and spiritual outlooks are welcome at this event.
Enjoy refreshments and view the See Me: Portraits of Foster Youth exhibition afterwards.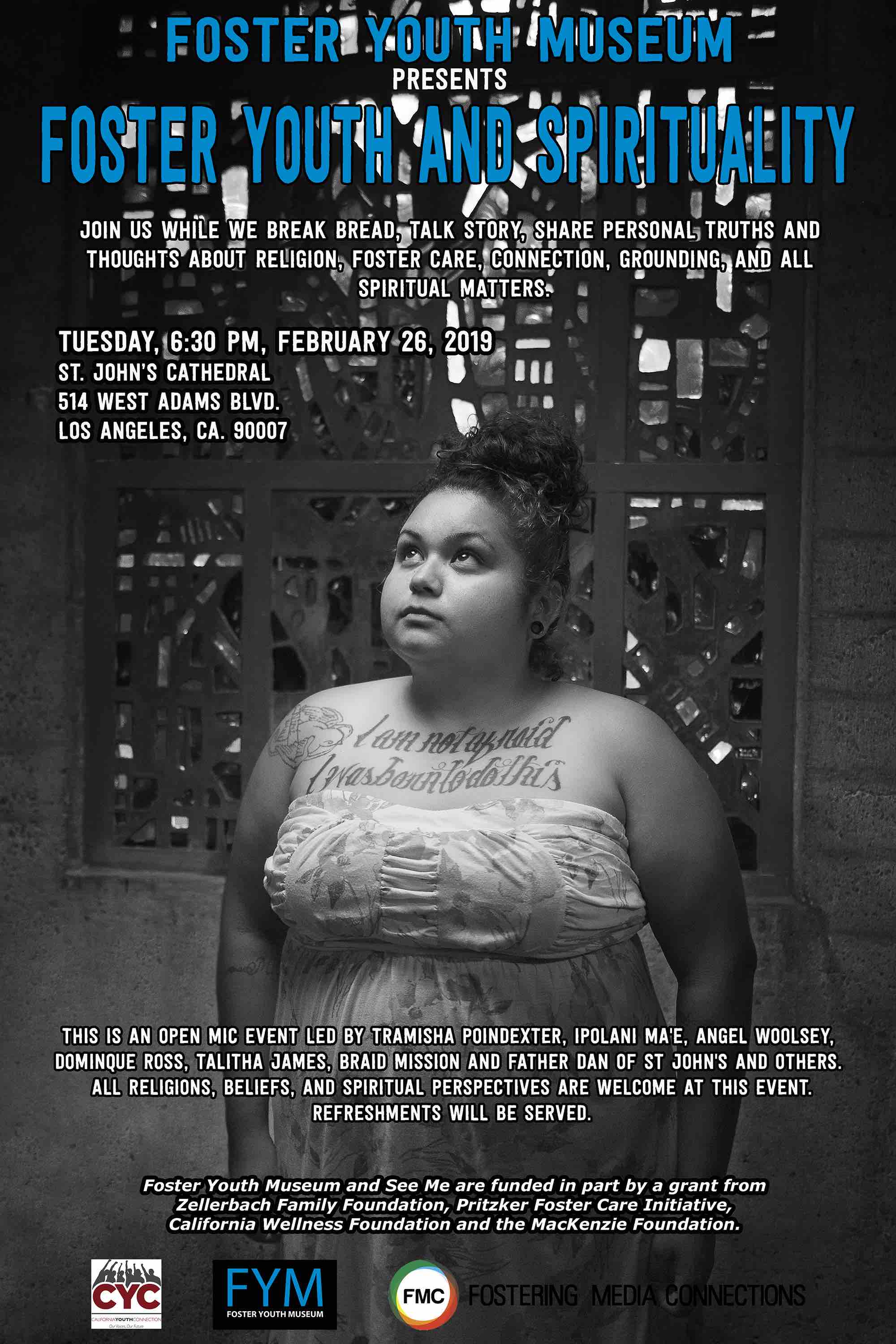 ---
Foster Youth Museum (FYM), a project conceived by current and former foster youth, is the largest collection of art, artifacts and video portraits about youth experiences in foster care.

In large scale archival quality black and white portraits, accompanied by stories of significance about those youth, See Me powerfully documents and tells the stories of the resilience and undeniable beauty of foster youth.

Featuring college students and graduates, mothers, social workers, lawyers, public servants, community leaders and artists, See Me provides a hopeful narrative for youth emerging from Foster Care.

The exhibit also includes, for the first time ever, original photographs from foster youth photographers portraying something that holds deep meaning to themselves – other current or former foster youth engaged on their journey through community college, trade school or university.
---
Thank you to the exhibit sponsors: