Description
The Philippine Web Designers Organization celebrates its 10th year by launching an all-Masterclass edition of Form Function & Class, featuring Vitaly Friedman, Hui Jing Chen, & Holger Bartel!


3 amazing speakers. 3 intensive masterclass tracks. You can only attend one, so pick wisely.
Read this detailed information before you buy a ticket.
Speakers & Topics
Vitaly Friedman – New Adventures in Responsive Web Design
Vitaly will be looking into a strategy for crafting fast, resilient and flexible responsive design systems by utilizing all of those wonderful shiny web technologies we have available today.
Hui Jing Chen – Grid is the New Black
Hui Jing will tackle web layouts using CSS grid, flexbox, additional properties for layouts like transforms & writing-modes, feature queries, and devising fallbacks for older browsers.
Holger Bartel – Solid Strategies to Build for a Better Web
Holger will discuss essential web development tips for accessibility, user experience, design, and performance.
Read this detailed information before you buy a ticket. Visit our Speakers page for more details.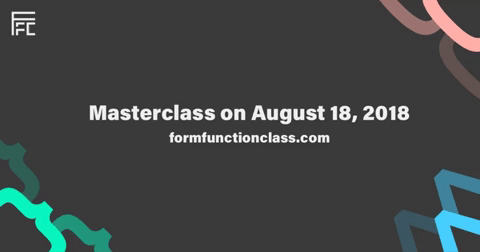 What happens at a Masterclass?
Read about FFC Masterclass featuring Holger Bartel in 2016
See highlights from FFC Masterclass featuring Brad Frost in 2015
TICKET SCHEDULE:
Blind Bird: Fridays to Sundays from September 2017 to February 2018.
Early Bird: March 2018 to April 2018.
Company Ticket: January 2018 to July 2018.
Night Owl: May 2018 to August 2, 2018.
May be subject to change without prior notice. Please follow us on social media for the latest announcements (see links below)
Special Discounts:
Company Ticket: get your company acknowledged as sponsor & enjoy VIP perks for a team of 5 or more
Community Ticket: gather at least 3 friends from the same organization, group, or school so you can unlock additional 15% discount
Visayas-Mindanao Discount: 15% off for attendees from Visayas or Mindanao (will be available March 2018)
Student Discount: enter FFC9STUDENTDISCOUNT in the promo code.
3+1 Group Discount: Secure 3 paid attendees and attend for free!
Loyalty Discount: up to 20% discount if you've attended FFC one or multiple times before (will be available March 2018)
Read 2018.formfunctionclass.com/tickets for full details, including how you can win a ticket FFC9!
Offline payment is also available:
Step 1: Choose payment method
BDO: 0280892586
Philippine Web Designers Organization, Inc.

Globe GCash: 09175885017

Available via: your GCASH account, Cebuana Lhuillier, LBC, M. Lhuillier, Banco de Oro, BDO Financial (BDO On-site), SM Forex (Shoemart), One Network Bank. Learn more →
Please take note of the Payment Reference ID for proof of payment. Additional fees may apply.
Step 2: Send proof of payment
Email payment@pwdo.org with the subject "FFC 2018 Offline Payment" and indicate the following details for EACH PARTICIPANT:
Name:

E-mail Address:

Mobile Number:

Company / School / Affiliation:

Occupation:

Gender:

Question/s for the speakers:

City:

FFC9 Shirt Size (unisex)
If you are purchasing a special ticket that needs additional documents for verification, don't forget to include them.
Please allow for at least 48 hours processing time.
Read this detailed information before you buy a ticket.


Need to convince your boss? We can help!
See what happened at FFC8!
Need to contact us? Email: info@pwdo.org
Follow & tag us!
#FFCPH #PWDO #FFCPH2018
Twitter: @pwdo @ffcph
Instagram: @pwdo
Facebook: /webdesigners.org.ph /formfunctionclass
Google+: pwdo.org/google+
Tumblr: blog.pwdo.org
Spotify: formfunctionclass
Medium: medium.com/@pwdo