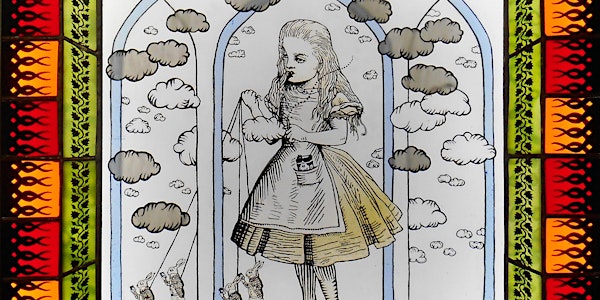 Form, Fabricate and Frame: Stained Glass with Joseph Cavalieri
Paint, draw and print on Stained Glass with world renown artist Joseph Cavalieri and then create a one of a kind light box to illuminate it
By School of Visual Philosophy
Date and time
March 23 · 10am - March 27 · 4pm PDT
Location
School of Visual Philosophy 1065 The Alameda San Jose, CA 95126
Refund Policy
Contact the organizer to request a refund.
About this event
Overview
This class encompasses all aspects of making a stained-glass panel, from design and production, to mounting the work in a 12x12-inch frame illuminated with LED lighting. Many samples will be made in class, and one frame with LED lights will be provided to each student to professionally display their artwork. Techniques covered include painting, pen-and-ink drawing, air-brushing and atomizing with enamels, sand-blasting and mounting and lighting. Prepared silk screens will be provided by the instructor for you to print with in class. We use premixed enamel paints which are added to the surface of the glass, kiln fired, copper foiled and soldered. Students don't have to be professional artist, they can bring in existing images and trace them on glass.
Included is a "Marketing for Artists" lecture. It presents organized, stress free, marketing for artists plan, resulting in better sales of your art. Joseph worked as an Art Director at GQ, People and Good Housekeeping magazines, where he gained insight from editors on marketing.
Joseph will also be hosting several free lectures all about professional development in the arts and Artist Residencies during the evenings throughout the workshop, so check those out as well!
Materials
Students should bring inspirational resources such as sketches or found images to use in there final panel. Design themes can be based on a favorite fable, book, movie or themes of past work students would like to continue in glass.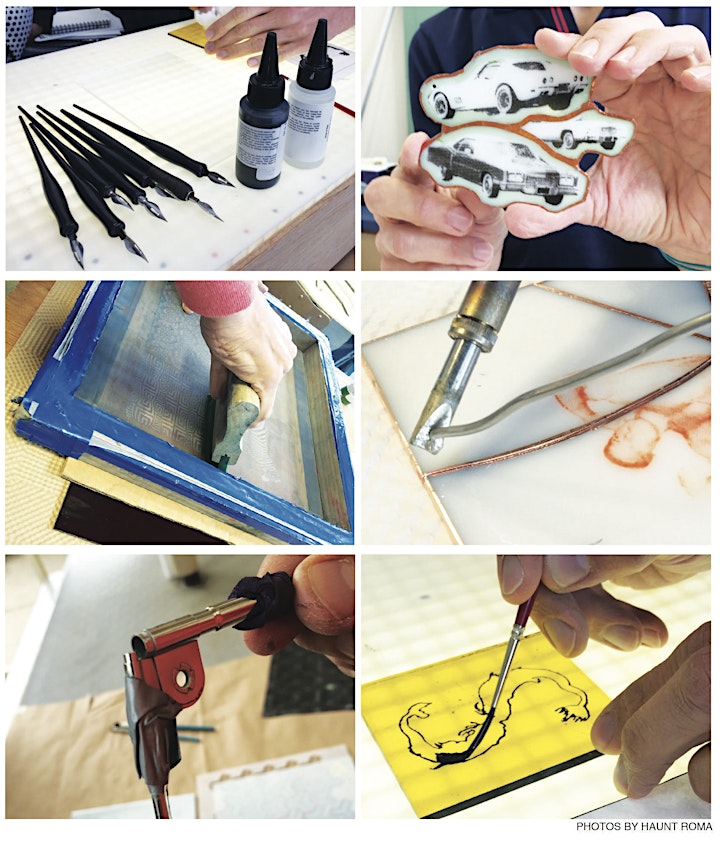 Meet your Instructor
My process dates back to Medieval times. Glass is cut, painted with enamels, and kiln fired to 1250 degrees to fuse the paint onto the surface of the glass. Then all the pieces are soldered together and placed in a wall hung light box. Of course Medieval artisans had to make the glass, mix the enamels, and didn't have LED lighting to light their work. If I ever had a chance to go back in time, it would be to visit a Medieval village in Europe. I would love to see the process firsthand, then leave quickly before I come down with scurvy or leprosy.
During a career art directing magazines in New York, I got interested in glass, and in 2010 switched careers. Since then I've had shows in many places including in galleries in the Chelsea neighborhood of Manhattan. My work is in the permanent collection of the Museum of Arts and Design, the Italian American Museum, and the Leslie-Lohman Museum of Gay and Lesbian Art. My collectors include two Simpson's writers in Los Angeles, and movie director Morgan Spurlock.
In addition to making work for gallery exhibitions, I've made many private and public commissions, including a large glass project with the Metropolitan Transportation Authority (MTA) Arts for Transit, here in New York City, and a six-foot round stained glass window for a church in Salvador, Brazil. (from an article on http://www.queerpgh.com/)
About the organizer
The School of Visual Philosophy is dedicated to improving art education and cultivating a professional, creative community by offering the highest level of instruction while integrating fine art with technology. We strive to respect and understand traditional practices while continually pushing the boundaries to improve and discover better methods of art education.