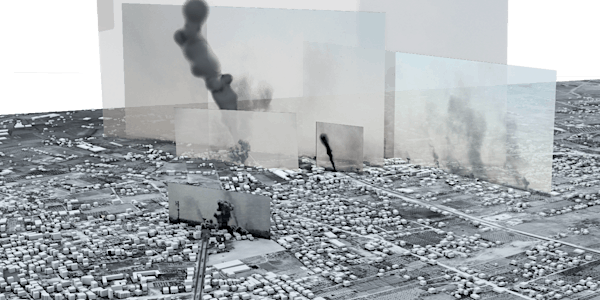 Forensic Architecture
Forensic Architecture (FA)investigates human rights violations through the production and presentation of architectural evidence.
By Tasmeem 2022, Radical Futures
Date and time
Monday, March 7, 2022 · 5:30 - 6:30pm +03
Location
VCUarts Qatar Atrium Doha, Al Rayyan Municipality Qatar
About this event
Keynote by Eyal Weizman (Forensic Architecture)
7th March 2022, 5:30 PM
Atrium
Upon Registration Only (limited seats available)
Forensic Architecture (FA) is a research agency, based at Goldsmiths, University of London, investigating human rights violations including violence committed by states, police forces, militaries, and corporations. FA works in partnership with institutions across civil society, from grassroots activists to legal teams, to international NGOs and media organizations, to carry out investigations with and on behalf of communities and individuals affected by conflict, police brutality, border regimes, and environmental violence. Our investigations employ cutting-edge techniques in spatial and architectural analysis, open-source investigation, digital modeling, and immersive technologies, as well as documentary research, situated interviews, and academic collaboration. Findings from our investigations have been presented in national and international courtrooms, parliamentary inquiries, and exhibitions at some of the world's leading cultural institutions and in international media, as well as in citizen's tribunals and community assemblies.
This event is an in-person event for the VCUarts Qatar community only that will be streamed live. Members of the public are welcome to ask questions in a moderated chat, at the end of each session.
About the organizer
The 2022 conference Radical Futures addresses the role of design in shaping the future. Tasmeem Doha 2022: Radical Futures is an inclusive and multi-faceted view of the future, one that not only speculates on technological advancements—but on future threats and changes whether environmental, geographical, cultural, or social. Now more than ever, we must ask pertinent questions, raise critical dialogues, and respond with clarity.