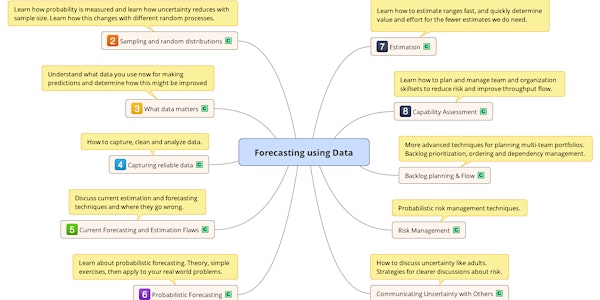 Forecasting using Data
When and where
Location
Austin (at the bazaarvoice offices) 10901 Stonelake Blvd Austin, TX 78759
Refund Policy
Contact the organizer to request a refund.
Description
Forecasting using Data
Workshop on probabilistic risk management and forecasting techniques.
This one-day workshop introduces all aspects of data capture and probabilistic forecasting using practical exercises. All techniques are explained solving real world problems.
If you currently manage teams or use estimates to forecast how long or how big teams need to be to deliver work, then this workshop will offer immediate skills (and an understanding of why and when to apply them). The techniques are reliable for use across any software development process such as, Scrum, Kanban or combinations (like SAFe).
The challenge of the day is to teach how to use concrete tools and knowledge that allow software and IT projects to be rapidly forecast using historical data when available. Also, how to use range estimates when no relevant history is available.
No prior mathematical knowledge is needed; this session introduces all of the skills needed to perform forecasts without complex statistics or mathematics. Bring a laptop if you have one to follow along on your own data, or just watch me or your colleagues.
Topics include –
Reasons why current estimation and forecasting techniques fail

How to use sampling techniques and seeing patterns in historical data

How to determine what data matters most and offers highest predictive power

How to capture, clean and store historical data

How probabilistic forecasting works and why it's easier than you think it is

How to perform reliable range estimates of values when no historical data exists

How to manage staff skill risks, assessing current state and planning future actions

How to predict and manage dependencies between work items

How to manage risks through rapid assessment and forecasting the impacts

How to communicate uncertainty and forecast data to others
Problems and examples include –
How to forecast what will fit into a fixed delivery time

How to forecast flow through a system

How to forecast how long a project will take using range estimates or historical data

How to estimate the remaining defect count

How to assess staff risk impact due to skills or lack of availability

How to integrate risk management with forecasting
Agenda at a glance - Some topics we will cover in detail with practical workshops
About the instructor:

Troy Magennis - Focused Objective LLC
Troy is the founder and consultant for Focused Objective LLC (focusedobjective.com) the leading quantitative analysis and forecasting vendor for the software industry for the last five years. Troy regularly speaks at industry conferences and promotes the better use of historical data, metrics and quantitative techniques to anyone who listens.
Troy has worked at all levels of the technology industry for the last 30 years, from entry level positions to Vice President for 1,000+ person technology organizations (Sabre Airlines, Travelocity, LastMinute.com, Corbis) and now consults for major companies like Tableau Software, Microsoft, Skype, Walmart, Siemens, LeanKit.
Food and beverages available onsite at the caffeteria (it's apparently an internal Whole Foods)
Cancellation Policy – Please Note:
Substitutions are accepted at any time. Cancellations must be notified by email and refunds will be provided according to the following:
- More than 10 days prior = 80% of course fee
- 5 to 10 days prior = 50% of course fee
- Less than 5 days = no refund provided
Focused Objective LLC reserves the right to postpone or cancel this event if there are insufficient registrations or if presenters are unable to attend due to illness. If necessary, you will be notified no later than 7 days prior to the event and all registration payments will be refunded promptly. If circumstances require, presenters may be substituted for alternative qualified presenters with equivalent experience.
Please be advised that events can be subject to changes in date and/or venue due to acts out of our control such as bad weather, civil unrest, etc. It is recommended that you purchase changeable and refundable tickets.
Focused Objective LLC will not be responsible for incurred costs in the event that we need to make changes due to circumstances beyond our control.