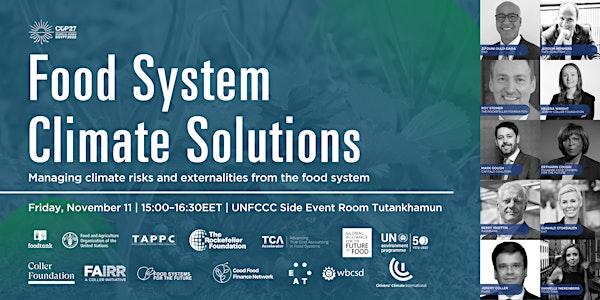 Food System Climate Solutions (UNFCCC / UN COP27). In Person/Streaming.
Food System Climate Solutions: Managing climate risks and externalities from the food system. Join us at COP27 Nov 11th at the UNFCCC.
When and where
Location
Tonino Lamborghini International Convention Center Sharm El Sheikh Qesm Sharm Ash Sheikh Sharm El Sheikh, South Sinai Governorate 8764001 Egypt
About this event
UNFCCC @ COP27. Join us at Side Event Room Tutankhamun (Blue Zone) in the Tonino Lamborghini International Convention Center Sharm El Sheik
Refreshments will be served. Advanced registration requested.
Friday, Nov. 11, 2022, 3:00PM–4:30PM (EET)
Food System Climate Solutions: Managing Climate Risks and Externalities from the Food System
Global food systems produce one third of greenhouse gas emissions and are a key driver of nature loss. This panel highlights ways the public and private sector can address these risks, including true cost accounting, sustainable food pledges and pricing, and Good Food Finance interventions.
Valuing Food and Agriculture Systems: True Cost Accounting and Carbon Pricing Food for Meaningful Climate Solutions
3:05PM. First Panel Discussion.
1. Zitouni Ould-Dada, Deputy Director, Office of Climate Change, Biodiversity and Environment, OCB of the Food and Agriculture Organization of the UN (FAO)
2. Jeroom Remmers, Director, TAPP Coalition
3. Roy Steiner, Senior Vice President, Food Initiative, The Rockefeller Foundation
4. Helena Wright, Policy Director, Jeremy Coller Foundation / FAAIR
5. Mark Gough, CEO, Capitals Coalition
Moderated by Danielle Nierenberg, President, Food Tank
The Way Forward: A Climate-Friendly Future of Food
3:45PM. Second Panel Discussion.
1. Jeremy Coller, Chairman, Coller Capital
2. Gunhild Stordalen, Founder and Executive Chair, EAT Forum
3. Ertharin Cousin, Founder and CEO, Food Systems for the Future
4. Berry Martin, Board of Directors, Rabobank
Moderated by Danielle Nierenberg, President, Food Tank
NOTE: The event will also be available via livestream here: https://www.youtube.com/c/UnfcccInt/playlists