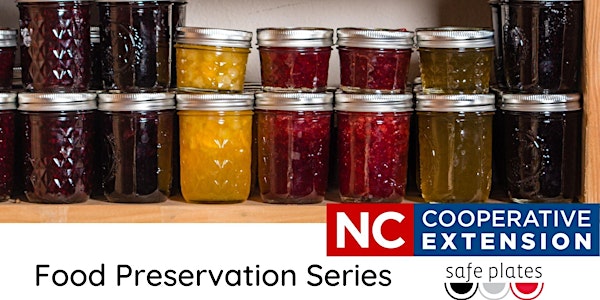 Food Preservation Series Part 2
Join us for part 2! Learn to preserve all the produce you harvest! We have several classes available, attend one of all of them.
When and where
Location
N.C. Cooperative Extension, Currituck County Center 120 Community Way #120 Barco, NC 27917
About this event
Taking the time to plan, plant, and tend to a garden can be very fun and relaxing. But what do you do when it comes time to harvest and you are up to your eyeballs in produce? Sign up for NC Cooperative Extension, Currituck County Center's Home Food Preservation Series, and learn to can all the produce you harvest. Join us from 12:00 to 2:00 pm for a hands-on food preservation experience. Each class requires a $15.00 registration fee which includes canning goodies and recipes. Check out the dates and class descriptions below to see which classes you might want to attend.
We are accepting cash and check payments in addition to paying via credit card through Eventbrite. Please, make checks payable to NCSU. Checks and cash payments can be received at the Currituck Extension Office located at 120 Community Way Barco NC 27917, within 5 days of registration. Class size is limited and full registration, including payment, is required to hold your spot. If you have any problems registering please feel free to call us at 252-232-2261, and we will walk you through the process. If you are interested in joining us for other classes check out go.ncsu.edu/currituckeventbrite for a complete listing of classes.
For more information or accommodations for persons with disabilities please contact Olivia Patchel at 252-232-2261, email olivia_patchel@ncsu.edu no later than ten business days before the event.