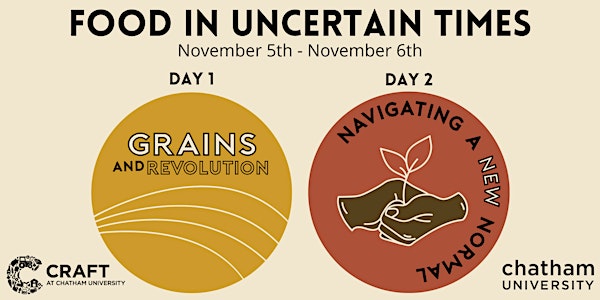 Food in Uncertain Times
Virtual conference co-hosted by CRAFT at Chatham University and Chatham University's Eden Hall Fellows.
About this event
This 2-day, virtual event will focus on the present day challenges within our food system, including racial inequity, the colonization of food, and lack of representation and access, and will highlight many efforts of resilience throughout a global pandemic.
The Center for Regional Agriculture, Food, and Transformation (CRAFT) at Chatham University is excited to announce an upcoming virtual conference, Grains & Revolution, an opportunity to center and amplify the BIPOC chefs, farmers, bakers, and millers who showcase the diversity of grains. Join us for a conversation with bakers, millers, and culinary historians seeking to decolonize the practice of baking and brewing by using grain as a vehicle for revolution. Our mission, to help support and create a more equitable, sustainable, and inclusive food system, demands that we view baking and brewing as shared and transformative processes. The panels will highlight existing and emergent projects that bring together social change and yeasted loaves; they will offer discussions with women bakers and Black brewers who speak to the past and present of their practice; and they will suggest practices that move the margins and create shared and generative sustenance.
Panel 1: Community Grain Projects
Panel 2: Conversations with BIPOC Women in Grain
Panel 3: Seed Saving & Food Sovereignty
Virtual baking demo with Bryan Ford, of Artisan Bryan and author of New World Sourdough
Happy Hour Event with Deer Creek Malthouse
Chatham University's Eden Hall Fellows are excited to announce Day 2 of the Food in Uncertain Times conference, "Navigating a New Normal," a day to build upon conversations surrounding the current status of our food system. Join us on November 6th for conversations with warriors, builders, and weavers who are working toward revolution and resiliency through radical acts in our food system. The day will focus on the importance of alternative food economies, storytelling, autonomy and inclusion through the lens of the present day food system which has been rocked by an unpredictable global health pandemic. The impacts this pandemic and simultaneous civil uprising have on our food system amplify pre-existing flaws, while showing the momentum toward a more equitable and just future. The voices of BIPOC and the LGBTQ+ community will be amplified in our panels and conversations. We hope to see you there!
Panel 1: Alternative Economies
Panel 2: Opportunities for Sovereignty: Foraging, Fermenting, and Food Preservation
Panel 3: Storytelling and Social Change: Food Narratives for Liberation