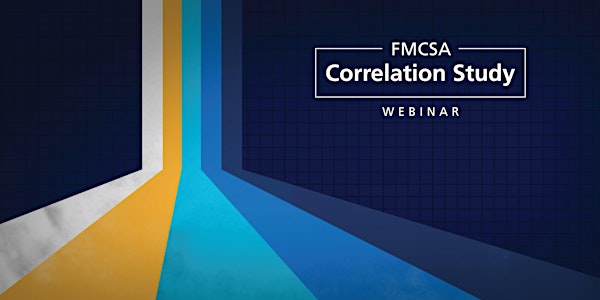 FMCSA Correlation Study Webinar: Improving Data Quality and Sources
Description
This Public Meeting will cover FMCSA's proposed corrective actions relating to improving data quality and sources of data, as proposed in the National Academies of Science (NAS) report, titled "Improving Motor Carrier Safety Measurement."
Attendees will have the opportunity to ask questions of FMCSA representatives and provide feedback that will help shape the implementation of these recommendations:
Collaborate with States to improve the quality of the Motor Carrier Management Information System (MCMIS) data in support of the Safety Measurement System (SMS), focusing on carrier exposure and crash data

(recommendation #2).
Collect additional data that could potentially benefit the recommended methodology for safety assessment

(recommendation #3).
Provide external parties, such as researchers and carriers, with a version of the data file and computer code used to compute SMS that is both user-friendly and free of personally identifiable information

(recommendation #4).
This registration form is for the virual meeting (via webinar). If you prefer to attend the meeting in-person, please use the link below to register. Note that spaces for both the in-person meeting and the webinar are limited.
Contact

For all inquiries related to the FMCSA Correlation Study or the Public Meeting, contact:
Ms. Barbara Baker, Compliance Division, FMCSA
(202) 366-3397 or barbara.baker@dot.gov

Note: Please submit all inquiries related to special assistance at the meeting by August 27, 2018.
About the NAS Report
On June 27, 2017, the National Academy of Sciences (NAS) published Improving Motor Carrier Safety Measurement. This report was commissioned by the Federal Motor Carrier Safety Administration (FMCSA) to comply with the requirements of Section 5221 of the Fixing America's Surface Transportation (FAST) Act. More details about the NAS Correlation Study and FMCSA's response to it are available at https://www.fmcsa.dot.gov/fastact/csa.